In choosing one's first violin, or a lasting upgrade from one's starting piece of musical equipment, a student might experience much uncertainty about the material that his instrument should be made of, the brands that are most reputable, the kind of tone he wants from his instrument, the tactile feel that he wishes the bridge and chinrest to present, and the weight and shape that he would like his bow to embody.
"Do I want to portray the dark personas of Beethoven and Wagner, or will my tastes more likely be for the jubilant, light-hearted compositions of Mozart and Vivaldi?" he might ask while reclining in his flower-inlayed chair.
The immediate likability of the violin, as well as the credibility of its maker(s), are essential pieces of information to consider in making one's decision, and the qualities that the student and the wooden stringed tool share are important in picking an appropriate fit.
The aim of this article is to help shoppers, especially online ones, determine which violin makers craft designs suitable for their own purposes, to provide details about various kinds of wood – their histories, the sounds that they best produce, and the styles that they are most commonly used for – and to give data about which violin types are called for by various genres of orchestral and other ensemble music.
To do this, it will examine company pasts and reviews, will look into the instruments that were used by professionals in their early days, and will analyze the particulars of specific violins, so that players can fully understand what is being sold before making any purchases.
Guide to Buying the Best Violin
Violin selection is for a performance trainee as wand selection is for a novice wizard – in order for the user to be most certain of the tool's rightness, she must sense, in a way, that the tool's spirit is in accordance with hers, and that their backgrounds are complementary of each other, through various trials.
This writing will provide an experience that is as close to an in-person one as it can be, using quotes, pictures, and vivid descriptions to portray the instruments in their fullest light.
Hopefully, readers will be able to discern what the best violin for themselves or their children or students is after reading.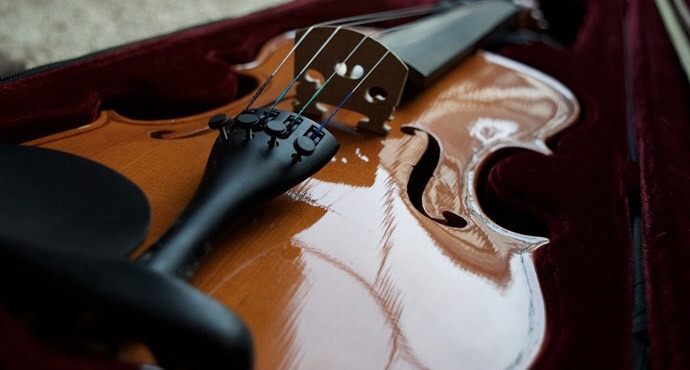 It is understood that price is a major factor in picking what to finalize a purchase of, and this writing will take that into account.
As viewers likely have a wide spectrum of budgets and investment plans, there will be listed both violins that are affordable by most means, and ones that require relatively high expenditure.
Maintenance costs will be taken into consideration, too, and only sellers that are deemed trustworthy and economically-friendly will be chosen for these pages.
The following passages will inform about dependable sources of the most practical and high-quality violins, sold by the most respectable marketers within our knowledge.
They will be honest and straightforward, and will serve primarily to help seekers make the best purchase decisions possible.
With that, we proceed to our list of best violin brands.
Stentor
Stentor is a self-proclaimed "leading manufacturer of student stringed orchestral instruments worldwide" that has distributed violins since 1895.
The company's products are hand-carved from spruce woods, and are particularly smooth to the hand and pleasing to the eye.
Music professor and violin teacher Edward C. Doughty founded the brand and chose its name as a hat-tip to Stentor, a character of Homer whose "voice was as powerful as fifty voices of other men", and whose qualities are hoped for in the maker's woodworks.
Since the mid-20th century, over one million Stentor violins have been purchased, and many have been used in formal orchestral settings.
The violin-specialists sell "more orchestral stringed instruments than any other company internationally", and their products are exported to over thirty countries throughout the world.
With a primary factory based in Taixing, China, local people are employed to make violins, violas, cellos, and double basses for beginners.
Stentor Student II Violin (1500)
This violin is "recommended by teachers and music services" for its stellar tone and proud quality. Carved with a mix of spruce and maple woods, it offers triumphant sonic output and classic note articulation.
Its gold-brown varnish and ebony fingerboard flaunt a sleek and clean look, ensuring performances that will have both excellent aural and visual appeal.
This object will last for a long time, and will adhere to up to high school-level standards.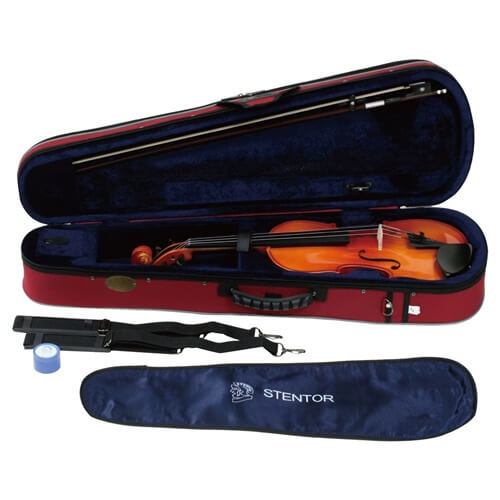 Students who are in need of a responsive instrument are advised to look into this one, as its productions are articulate, and not so bright that they disturb nearby persons.
This violin forgives even the heavy hand, as the elasticity of its strings soaks up much crunch that a bow's contact might cause.
With a sale price of about 200 dollars, the instrument bears a surprisingly bigger bang than buck, as a large amount of similar, possibly lower-quality violins are often sold for a higher value.
The items comes with a bow, rosin, and case, making an awesome deal for such practical purposes. You will not regret the purchase of this violin, and practice on the instrument will not be unfulfilling.
Pros:
novice-oriented quality
inexpensive
gleamy and eye-catching
Cons:
not professional quality
semi-bland tone
The Student I violin is impeccably fitting for the courageous beginner, as its glossy sheen is akin to that of a knight's sword, and as its playability is similar to the dynamism that is featured in medieval weaponry.
With a gleam that might startle the unwary eye, and with sounds that reminisce the resonance that take place in festival centers, this musical craftwork is a piece of great novelty and ornateness, and of sing-song tenderness and learner companionship.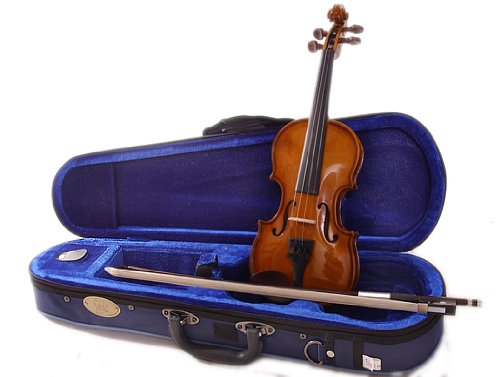 Its soothing hums and visual aesthetic are guaranteed to swoon any audience that has ears for high art.
Especially apposite for pieces of dark settings, and for productions that call for minor ambiance, compositions by sirs like Tchaikovsky, Stravinsky, and Glass would function very well on this wood mold.
The design might encourage students to aspire to play tunes like those of the authors mentioned, and is likely to fit into orchestras that encapsulate deep, rich emotions and deliver honest, serious performances.
It is definitely a standard-bearer, and it shines well in the sights of onlookers who are extremely aware of deviations from the norms expected of ensemble instruments.
It also comes with a bow, a case, and rosin, which, altogether, pose a magnificent deal, and stand as a nearly unbeatable sale. For a fully working, modern standard violin set, there is little better to be found.
Pros:
Great for beginners
Excellent reviews
Recommendable practice instrument
Cons:
Not ideal for professionals
Dark sound might be unsuitable for poppy pieces
Cecilio
Cecilio's instruments are handcrafted and put through "rigorous" design and testing processes, first abroad, then in Los Angeles, so that each good that the company puts onto the market is fit for competition against the best violins.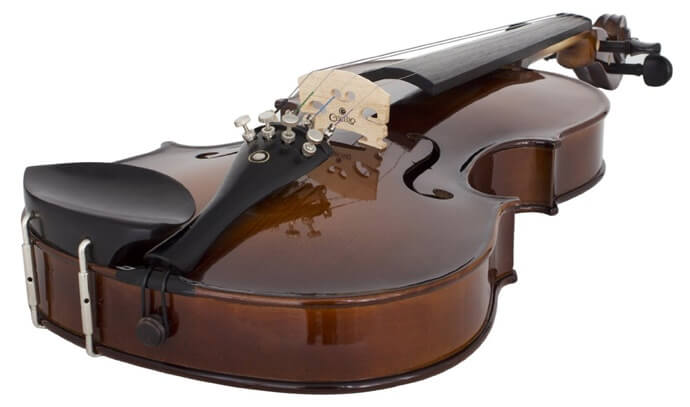 The team is assisted by music teachers and professional players who are determined to produce high-grade violins, as well as band and other orchestra instruments, while maintaining low customer prices and saving time for dependable customer support.
The idea for the brand's name was inspired by St. Cecilia, who is known as the patron of music and musicians.
Stories say that the saint heard heavenly music during her marriage, and Cecilio appears to have its ways set on embroidering, by means of violins that lure players again and again, the same sense throughout people's lives.
The CVN-EAV is a hand-carved violin made from spruce and maple woods. Its color is a luscious dark-brown with a gorgeous, "antique"-finished varnish, and its tailpiece and chin rest are masked with an ebony sheen.
Its soft, textural projections allow it to blend smoothly with groups of reserved instrumentalists, and pieces such as Rachmaninoff's 'Vocalise' and Debussy's 'Sonata for Violin and Piano' perfectly suit the instrument's calm response type.
Students, teachers, and onlookers are pleased by the sight and sound of this lovely object, and the violin undoubtedly serves as a fine tool for practice purposes.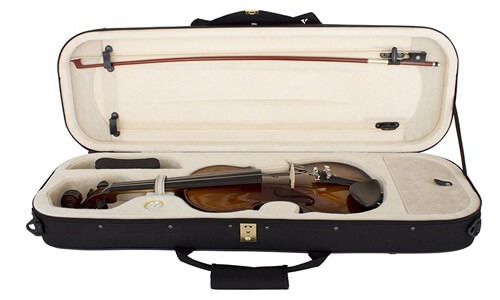 It looks like a violin, feels like a violin, handles, plays, and sounds like a violin…with no qualifications or apologies needed".
Though not ideal for a professional, the item is a great first for beginners.
With a "deluxe oblong hard case, a brazilwood bow with unbleached genuine Mongolian horsehair, an adjustable shoulder rest with rubber feet, a bridge, and a high quality rosin", all, including the violin, for under 90 dollars, the deal's value is difficult to compete against.
The combination is certainly one of the easiest, as far as money goes, to purchase on this list, as well as, perhaps, one of the most affordable in stores today.
Pros:
Makes for candid practice routines
Entices welcoming response in orchestra players and maestros
Sings eloquently on its own
Cons:
Professional use might be discouraged
Has a dark color that does not always bode over well in outdoor settings
Not plausible as a fiddle
The CVN-200 is nearly a bright, crisp version of the CVN-EAV.
Its color distinguishes it from its counterpart immediately, and its sounds are clear and melodious compared to the other's damp, grave ones.
The violin's neck, back, and sides, like many of its type's, are of maple, and its head's main material is spruce.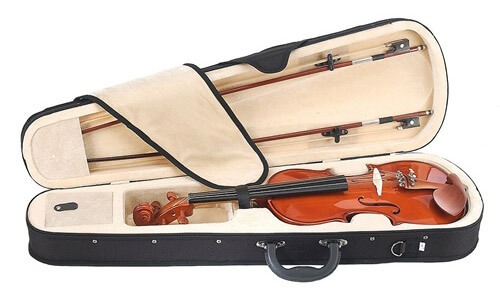 With a sound that is as gallant as it is stylish, it works well for writings by Mendelsohn and Beethoven, and operates in Haydn's keyboard concertos aptly.
The items that come with this instrument are plenty, and make for another excellent deal.
The offer consists of a "Cecilio chromatic tuner, [a] lesson book, [a] lightweight hard case, [two] Brazilwood bows with…genuine Mongolian horsehair…rosin…[an] adjustable shoulder rest, and an extra bridge".
Though not, by any means, the value of a professional instrument, this price beats most in the market for musical equipment of the same quality.
"Is a violin that cheap really worth buying?" one might ask. Five-star customer reviews might imply a positive response.
Pros:
Super customer reviews
Lovely bright qualities
Excellent price
Cons:
Not professional
Blendable quality might make its sound indistinct
Knilling
With its founder's roots in Europe, Knilling was named after a well-known German luthier, and, though based in St. Louis, carries the spirit of master craftsmanship and innovation that is profound in parts of The Old World.
In attempting to make the best violins, the company makes goods that are beneficial for apprentices, as well as ones that act as reliable additions to professionals' tool belts.
It also emphasizes its use of Planetary Pegs, which are innovational tuning pegs that rely on mechanized gears, rather than on friction, to finely tune their attached strings.
Individuals and groups that have used Planetary Pegs include Richard Greene, an influential fiddler from Los Angeles, Julie Lyon Liebermann, and Turtle Island String Quartet, an ensemble that has been proclaimed as "authentic and passionate" by Yo-Yo Ma.
Knilling's use and promotion of these revolutionary pegs verifies the establishment's pursuit of newness and practical discovery.
Knilling 110VN Sebastian Violin
The "exceptionally high quality construction" and the finish that reveals the purposeful aging of the 110VN makes believing that the instrument is meant for trainees difficult.
Of the violins that have been mentioned thus far, this one is the best made.
Its body meant for durability, it maintains tonal precision for students who practice well beyond the average amounts, and stands as new in the face of much rosin and bow work.
Situated with adjustments fitting for initiates, and with fine tuners, a chin rest, and a tailpiece that are colored ebony, the musical object is a sight to behold, as much as its aural projections are beauties to perceive.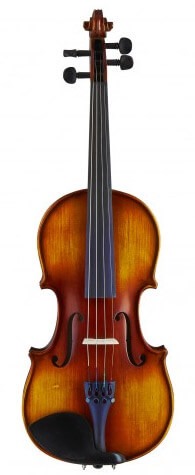 With a majority being maple wood, and with some extensions, like the head, made of spruce, the body lives up to industry and independent craftsman standards.
The bow that is included has genuine horsehair, and its accompanying case is shaped and sturdy, fully capable of protecting its interior from water damage and external force.
For a price below 360 dollars, this package is one worth considering, as it can satisfy players' violin needs for some years to come.
Pros:
Aged to have an antique tone
Long-lasting
Gorgeous
Cons:
Less classic of a look than many violins
Has modern tuning pegs that some might judge as unconventional
Knilling Perfection II Violin
The Perfection II is not unworthy of its title – its formal shades of brown, its classic tone of voice, and its adherence to modern standards of size and weight form an object void of impurities.
With a bold, withstanding tone, and with unfaltering sustainability, the violin's potential notes are strong and firm, well able to conjure a spirit of passion and courage in the hearts of listeners.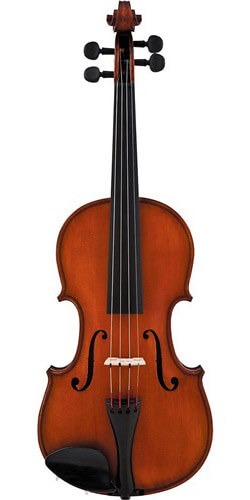 One of the only attributes lacking in this instrument is the timidity that other violins might hold.
The Perfection II violin and its outfit, which comes with a "lightweight dart-shaped case" and a "brazilwood bow with natural horsehair", is worth more than it costs.
Its Perfection Pegs grant it modern air and innovation, while its architecture appeals to the expectations held by professionals today.
Pros:
Brilliant design
Light and aerodynamic
Cool, sharp, and classy
Cons:
On the low end of the professional violin spectrum
Untraditional components
Cremona
The tone of Cremona's instruments has been awarded two VSA silver medals, as well as many certificates and honors from around the globe.
The company designs products, for beginners and advanced performers, that are distributed in more than 20 "countries in Europe, America, and Asia".
Made in workshop environments under the supervision of senior luthiers, the violins are crafted with carefully-chosen tone woods and specific measurements that furnish, altogether, wonderful setups.
The brand takes pride in its making methods and their inventors, referencing its workshop leader, Shang C. Guan, who won the International Violin Competition's gold medal for bow in 1990.
An orange-brown, shaded varnish gives this violin a sublime appearance, and the tone that sways from the item's core can soothe the most ravaged hearers.
As mellow as a sunset, and as easy to blend with violas and cellos as orange is with red and yellow, the comfort giver's sonorous qualities are beachside breezes to the ear.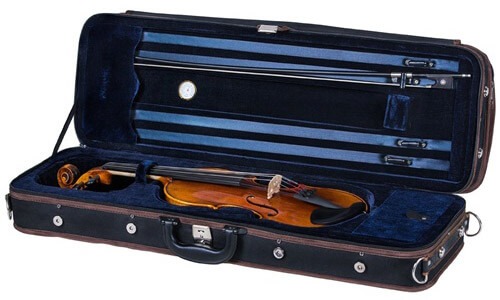 Audience members tuned in to this instrument's notes will reminisce days of joy and pleasure, and will be inspired to strive for the happiness they might have once had and are seeking.
Beginners and intermediate students alike will find this musical item attractive, and would be blamelessly tempted to keep it for long after being finished with its use.
Its features highly retainable, the SV-500 can serve as a familial tome to be passed down for generations, without losing its lush character.
This violin is sold online with strings, a brazilwood bow with genuine horsehair, and a lightweight case containing a hygrometer, which measures the humidity in the atmosphere, allowing one to monitor the condition that her instrument is exposed to (handy for preserving that lush character!).
The price is fair, and the items are of a nature that can spread good vibrations throughout any household. This deal is a marvelous one.
Pros:
Vibrant color scheme
Seductive tone
Built by masters
Cons:
Not professional
Has a cheap price that might cause mockery from jealous musicians
Cremona's 'Maestro "First Series"' line, which supplies mainly stylistically old-fashioned violins, makes no exception of the SV-1260, engraving vertical lines into its main body, and giving it a plain, authentic look, unscathed by excessive gloss or sheen.
"Perfect for both classical violin studies and for good old-time fiddling", the violin presents a range of artistic options, encouraging one to broaden his scope of genre.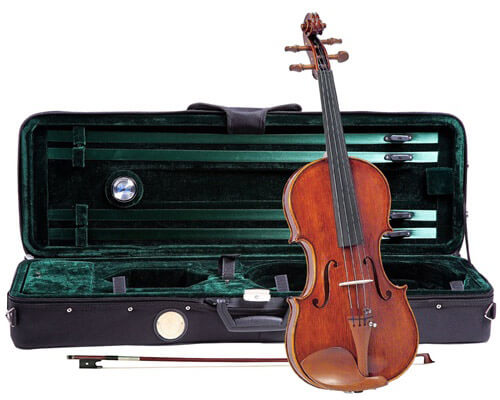 Fun tunes like 'Old Joe Clark' and 'St. Anne's Reel' work fabulously on this instrument, as do the more serious lines of Bach's 'Partita in D Minor' and Mozart's 'Violin Sonata in E Minor'.
Great for starters and intermediate musicians, the SV-1260 is full of pleasantries and tales of well-learned crafter hands.
If you are looking for a musical good that is sure to impress any friends and strangers who observe it, this one could be justifiably recommended to you by any professional.
A traditional feel and a satisfying combination of accessories make this deal a model of high credibility.
Pros:
Classic look
Superb for fiddling
Great for classical music
Cons:
Near-"rustic" tone
Not a top-tier professional instrument
What's the best violin brand for beginners and students?
As a violinist, I might recommend Knilling as the company from which to buy a first violin.
A combination of great prices and quality, innovative instruments gives this brand a position above that of others.
Knelling's best violin mentioned in this article, in my opinion, is the Perfection II.
Its smashing tone, sonorous note capabilities, and modern features makes it a violin worth inspecting and trying, at least.
All of the violins mentioned in this article have special and beneficial qualities, and all match the needs of "Padawan" players.
Good in terms of price, and safely packaged and designed, the instruments are sure to provide their money's worth to any curious shopper.