Your violin case is one of the most important tools you own if you are a violinist. The case is the one thing that will keep your violin safe as you head to practice and performances. Of course you need a good case just for storage purposes when you are not using the violin.
Violins are precision instruments that have to be protected from bumps, bangs and even dust. The right case can go a long way in the longevity of your violin.
Most of the cases that come with the violin outfit are decent but as you upgrade your violin you will want to update your violin case. There are many different styles to choose from that include:
Lightweight carbon
Leather wrapped
Fully velvet lined
Combination materials
In each case there are benefits and drawbacks.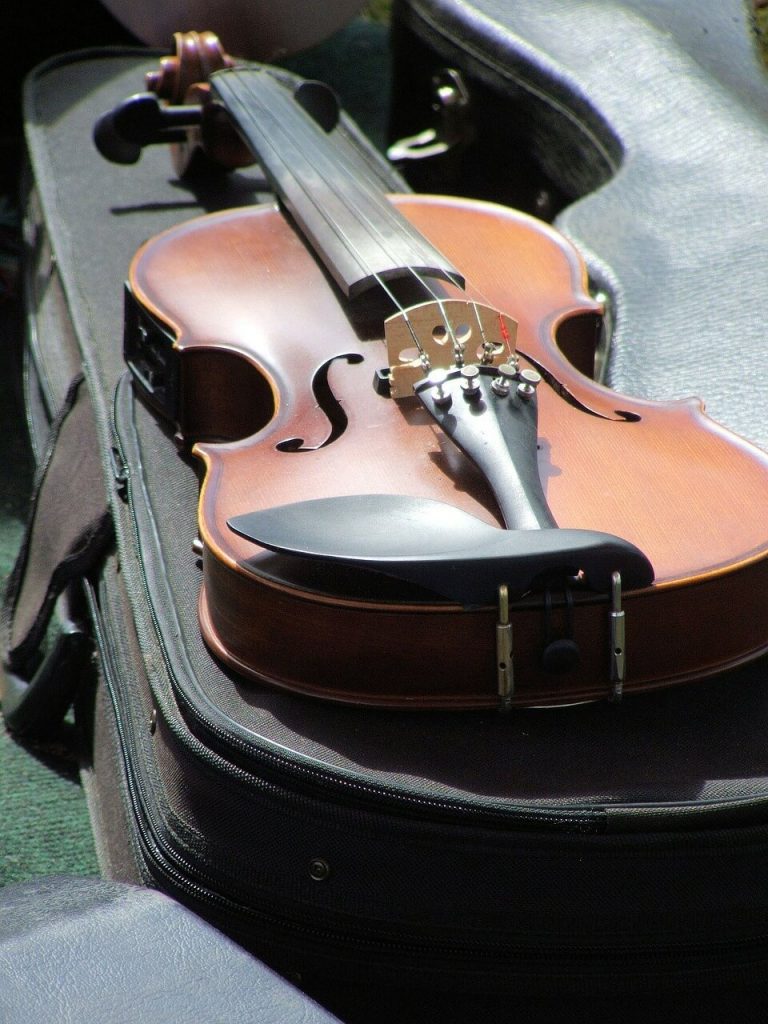 We Can Help!
Of course you likely have many obligations to deal with and searching for a violin case is not likely very easy to fit in your schedule of things to do but we can help you find the best violin case.
We took the time to review many different cases with the goal of narrowing down the list to the 7 best violin case reviews to help you have a point of reference for your violin case shopping.
The Criteria
We understand that not everyone has a ton of money to spend on the high end cases (and some of them are literally a ton of money) and we also understand that you should not have to sacrifice quality simply because you cannot spend a ton of money on a case.
We set up our criteria for finding the best cases on the market. We looked at:
Budget friendly cases
Well-built
With some luxury features
Built around the main goal of protection
We did our best to unearth budget friendly cases that were also high quality well-built that did offer some of the high end luxury features and that never lost sight of the fact that the main purpose was to protect the violin.
There is one case that made our list that is NOT budget friendly but is of such high quality that if you have the extra cash you should invest in the case to best protect your violin and have peace of mind that it is safe.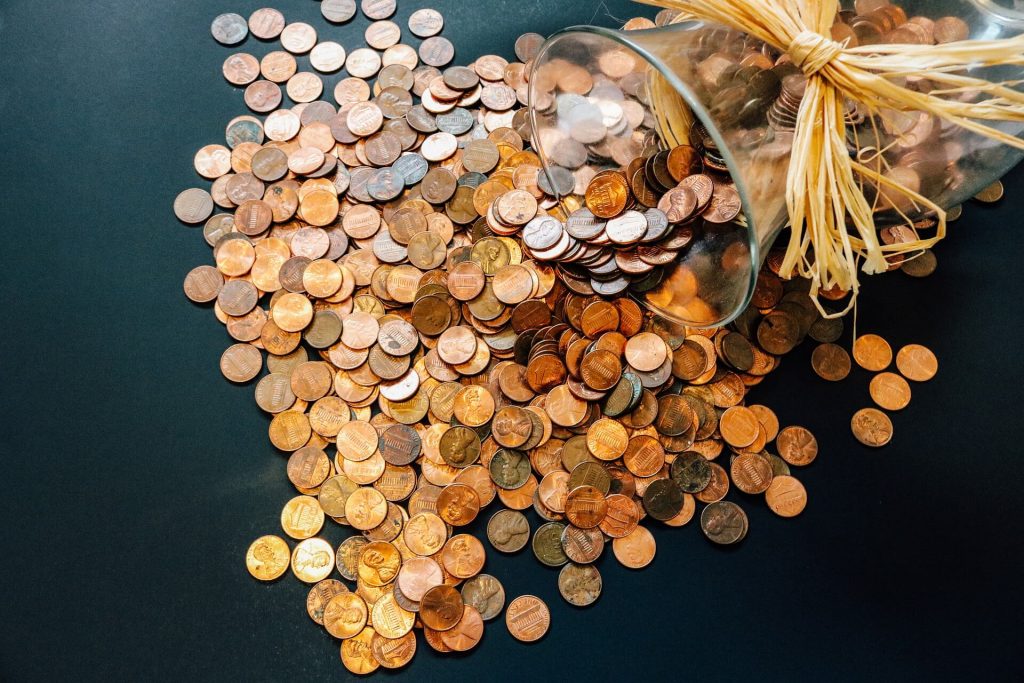 While we do understand that budget is always an important driving force you do have to consider that you should spend proportionate to your violins value on your case.
For example, if you have a very expensive violin you will want to spend the extra money to ensure that your investment is always in a safe environment.
Do consider what you expect out of the case and how you will be using it. If it is strictly for storing the instrument than you do not have to consider the weight of the case but if you will be carrying the case to and from practice and performances, you do want it to be comfortable to carry.
The Cases
There are literally hundreds of cases out there that would get the job done but we wanted to narrow down the list for you to make it easy to find the perfect case.
Here are the 7 best violin case reviews:
ADM Full Size 4/4 Deluxe Lightweight Sturdy Violin Carry Case
We liked this case because of the built in hygrometer. The hygrometer allows you to take action to protect your violin when the weather changes. The exterior of this case is wrapped in waterproof "raincoat" fabric.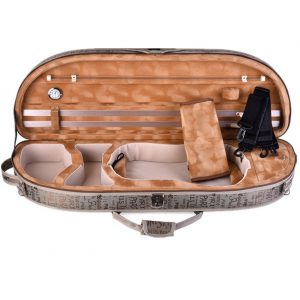 Click Here for Pricing, Pictures and Reviews on Amazon
It has a well-padded interior that offers 2 bow compartments, a string tube and extra space for other items.
You can use the handles which are also well-padded or the shoulder strap for carrying purposes. We liked the weight on this case because it is very lightweight and would be easy to carry for a student or even a child. We also like the price which is budget friendly.
ADM 4/4 Full Size Basic Professional Violin Hard Case
This case is a simple very budget friendly case. It made our list because we understand that parents of budding students need to keep costs down and this fit the bill nicely for being inexpensive but not being "cheaply" made.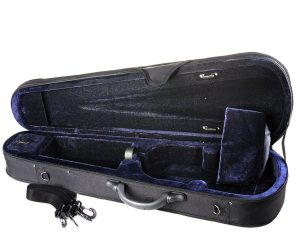 Click Here for Pricing, Pictures and Reviews on Amazon
It offers suspension cushions to keep your violin from bumping around in the case. The exterior of the case is covered in durable raincoat material. The handles are plastic and are secured with metal hinges.
This is NOT the top of the line case that you would buy for a very expensive violin but it does make an excellent student case based on the price, the well-designed interior of the case and the durability of the case.
Baker Street BK-4030 Luxury Violin Case
This case is a little more expensive but well worth the investment. It is constructed from lightweight plywood. It has a padded nylon wrapped exterior and a luxurious well-padded velour interior.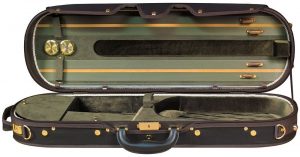 Click Here for Pricing, Pictures and Reviews on Amazon
It offers some perks like a matching velvet blanket and a drawstring silk case for added protection.
The interior has suspended padding to cradle your violin. This is an old world design that uses modern materials to come together and create not only a highly functional case but also a beauty to look at.
It is on the high end of most budgets but this case is built to last and would be an investment worth making for the advanced student and the professional alike.
Vio Music Full Size Hightech Carbon-Like Combo Violin Case
This carbon like case is a good example of high quality construction yet budget friendly. It is very lightweight yet very durable. It is well cushioned and offers suspension storage for your violin.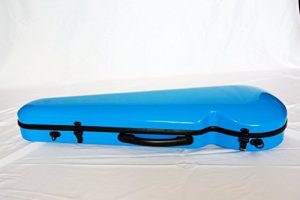 Click Here for Pricing, Pictures and Reviews on Amazon
It comes with a removable shoulder strap and sturdy handles. It has a built in hygrometer. It is a fiberglass case that is built with the student in mind so it offers plenty of roomy storage and tough durability.
Horizon Carbon Fiber Violin Case Review
While this case is not budget friendly for the student it is a great value for the professional. This is a very sturdy carbon fiber case that offers dual combination locks, leather wrapped subway style handle straps, back pack straps for easy carry options and a wide range of features that can easily help you to transport your violin.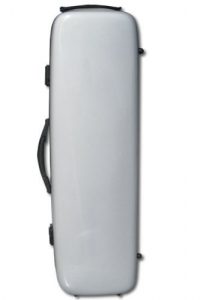 Click Here for Pricing, Pictures and Reviews on Amazon
It includes a hygrometer, padded shoulder strap and a well-padded interior that offers 4 bow holders and plenty of additional storage.
String House SG700 Carbon Fiber/Composite Violin Case
This case is budget friendly. It is lightweight and comes completer with a free dust cover bag. It offers back side and bottom rubber feet so it stays put when you lay it down. It has leatherette wrapped handles and a crosshatch pattern on the exterior.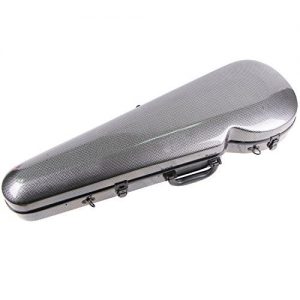 Click Here for Pricing, Pictures and Reviews on Amazon
This case is made up of 30% carbon fiber and 70% composite materials. It is a good value for budget conscious musicians that need a durable case that is comfortable to carry.
Aileen 4/4 Full Size Sturdy Luxury Violin Hard Case
This is a durable case that also will work well with any budget. It has a luxury interior, enough room for two bows, sheet music and a place to stash the shoulder strap when not in use.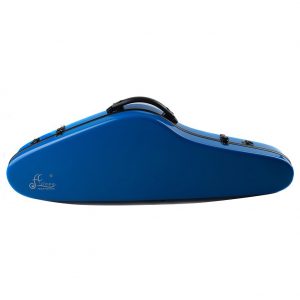 Click Here for Pricing, Pictures and Reviews on Amazon
It has a hygrometer built in so you can take the steps that you need to when there are atmospheric changes. This is a good case for a beginner or even an advanced student because of the price point and the durability of this case.
Wait Before You Go!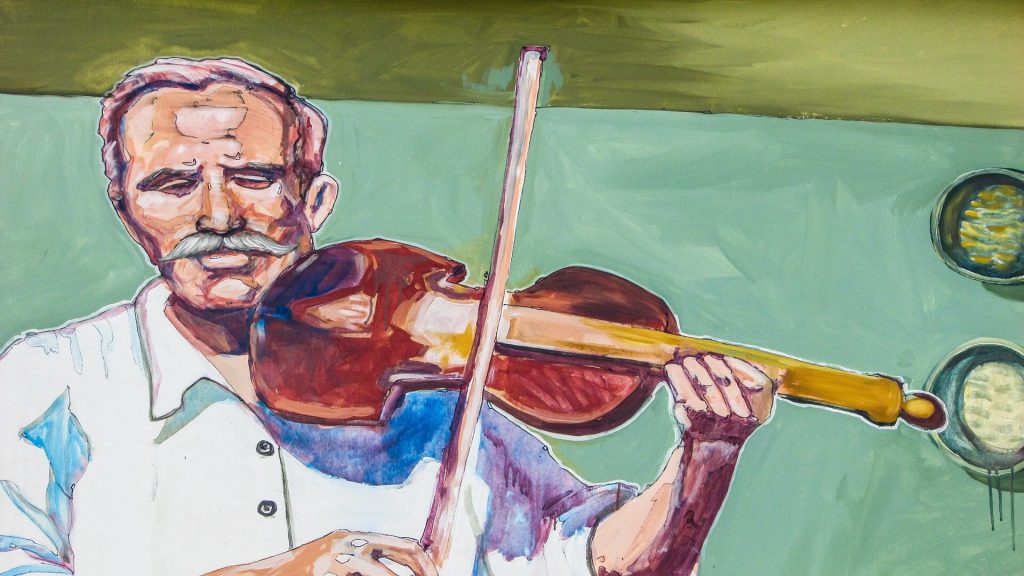 Before you go we have some tips that we wanted to share with you about violin cases:
Notice we did not choose any soft sided cases for recommendations? That was a conscious choice on our part. Soft sided cases are easy to carry, typically less expensive and do not provide the right amount of protection. Soft cases are convenient but we stayed away from them because they will not do much good in a situation where your case is bumped, banged or dropped. You should stay away from them too.
Consider the size of the person that is going to be carrying the case. Obviously for people that are slight you want to really focus on the weight of the case, the bulk of the case and the length of the case. Compact musicians need compact cases!
When it comes to violin cases in most cases you pay for what you get. An inexpensive case is not going to hold up the way a more expensive case will. If you want to NOT have to turn around and buy another case next year you may want to spend a little more this year!
We hope that our list has made your job easier and you find the perfect case for your violin!