The violin market – massive, marked up, and murky. Its selection is huge; tens of companies have a share of it. Many of its products are expensive, as some sell for over $4000.
And, often, it feels iffy – items descriptions are similar from one brand to another, and high quality violins are given the same online displays that less valuable ones have.
Professional photographers and graphic artists have perfected the skill of making cheap equipment look winsome, and e-commerce managers have developed methods that broadcast their goods more loudly than master violin crafters can about their own.
These obstacles to choosing the right instrument are obnoxiously difficult to bypass, and finding a reliable source of quality and low price has become strenuous.
Some makers do not even sell from their own online stores – their items are sold to distributors, who post them onto "cloud" retailers such as Amazon.
Because of this, finding information about brands is tedious, and reading a complete and honest company biography can take an uncertain amount of time.
Cecilio stands on a lovely middle ground of price, while resting on the upper part of quality. It sells violins for both beginners and advancing students, and its instruments are suitable for people of all ages.
With a range of items, from formal ones befitting to classical concert settings to colorful ones that could be used in parties and the like, Cecilio is an expansive brand that offers items that will fulfill many violinists' needs.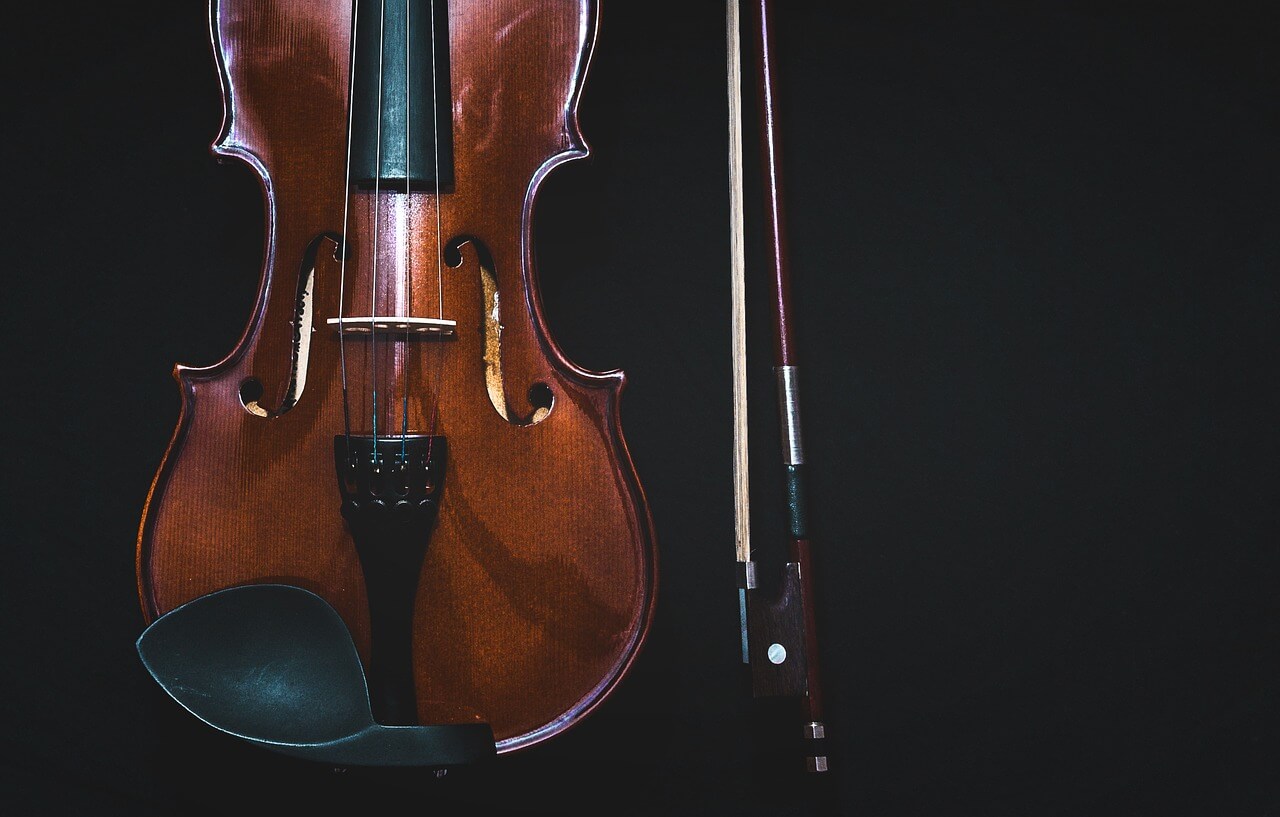 Also, a Cecilio site that gives information about the company, explains its mission, and displays its broad spectrum of stringed equipment is active, and searchers can view the page to ensure that the makers are trustworthy, and that they are greatly knowledgeable in their field.
Shoppers will be pleased to know that Cecilio holds its instruments to the most specific industry standards, and that many teachers, conductors, and music directors will recognize the name and approve of the student's ownership.
The violins are used commonly by music learners, and offer a good start for young players.
This article will provide a list of the best Cecilio violins, in hopes of making shoppers' lives a little easier.
</p> <h2>CVN-100</h2> <p>
The CVN-100 is a fine beginner's violin. It is traditionally colored, with regular brown as its primary hue. Solid spruce makes up the top, and wooden lines streak the surface, verifying the material's authenticity.
The maple back (made of the same wood that most violins are) is hand-carved, eliminating worry about the artificiality of machine-made objects.
Normal f-holes are formed by the surface's gaps – their regular size can bring about a resonance similar to pricier violins'. Their man-made nature is evident by the marks and cuts that remain from the woodworkers' doings.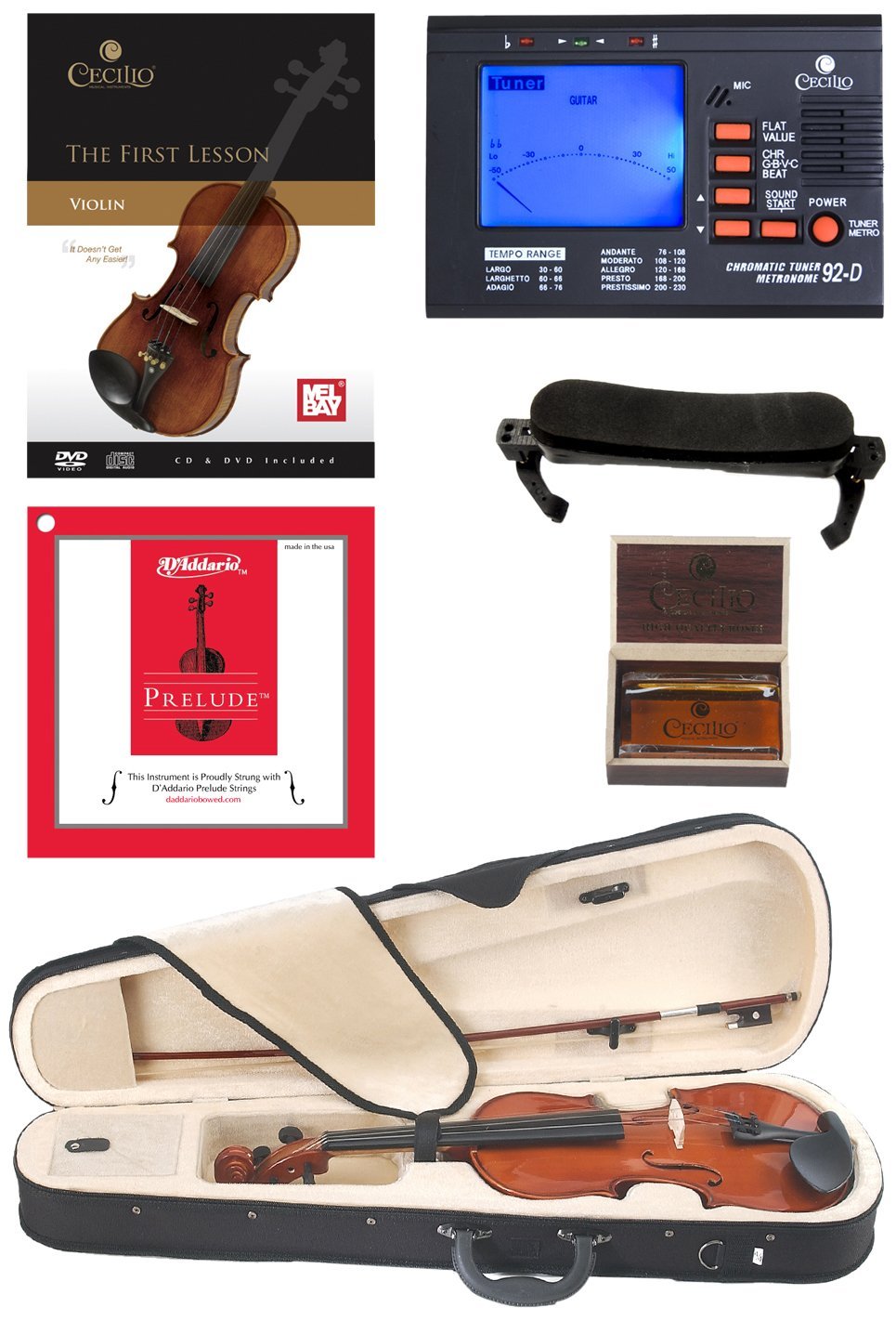 Black attachments rest on the violin; the fingerboard, tuning pegs, chin rest, and tail piece are all a fine shade of ebony.
They mix well with the violin's main body – black and brown are typical violin color choices. The fingerboard, chin rest, and tuning pegs are maple, restating the organic nature of the instrument.
The wood is suited for fingers to slide on, and can ease any issues that a student might have with reaching those high points or moving quickly from position to position.
The chin rest is more comfortable than a plastic or alloy one would be, and digs into the chin less abrasively than others might. It is smooth and sleek, looking as nice as it feels.
The bridge of the violin is also in good mergence with the other parts. Its light-beige tone is the brightest portion of the instrument, and it sits well as a real bridge.
Traditionally formed and designed, it sits firmly underneath the strings, and is held durably in place by steady tension. It is unlikely to break, as its shape and material has proved strong on other violins.
The tailpiece has four fine tuners that can fix their respective notes to be pinpointedly intonated.
Cecilio's CVN-100 outfit includes a light hard case whose holding place is fitted for a violin to rest perfectly inside, and whose interior is a soft color. A protective cloth or blanket accompanies the set, and rosin, an extra bridge, and a brazilwood bow do, too.
The CVN-100 student violin can be purchased for around $200. This price makes it a superb purchase, and holds the violin up as a great starter instrument.
Pros:
Natural, normal color
Necessary accessories included
Hand-carved
Perfect for beginners
Cons:
Unsuitable for advanced players
Sound is not significantly strong
</p> <h2>CVN-200</h2> <p>
The CVN-200 is a gorgeous instrument whose combined color tones are expertly blended and uniquely chosen, but that hold to regulated conventionalities and professional tastes.
The violin's spruce top is light-brown, with a hint of sunburst in its center. It is marked by wood streaks – its makers refrained from excluding nature's credit in the building process.
Maple composes the instrument's back and sides, and the evidence of true woodwork are clear in the random swirls and speckles that are engrained throughout the surface. The orange shade hints wonderfully at the idea of a sunset, and portrays the light of that time of day sublimely.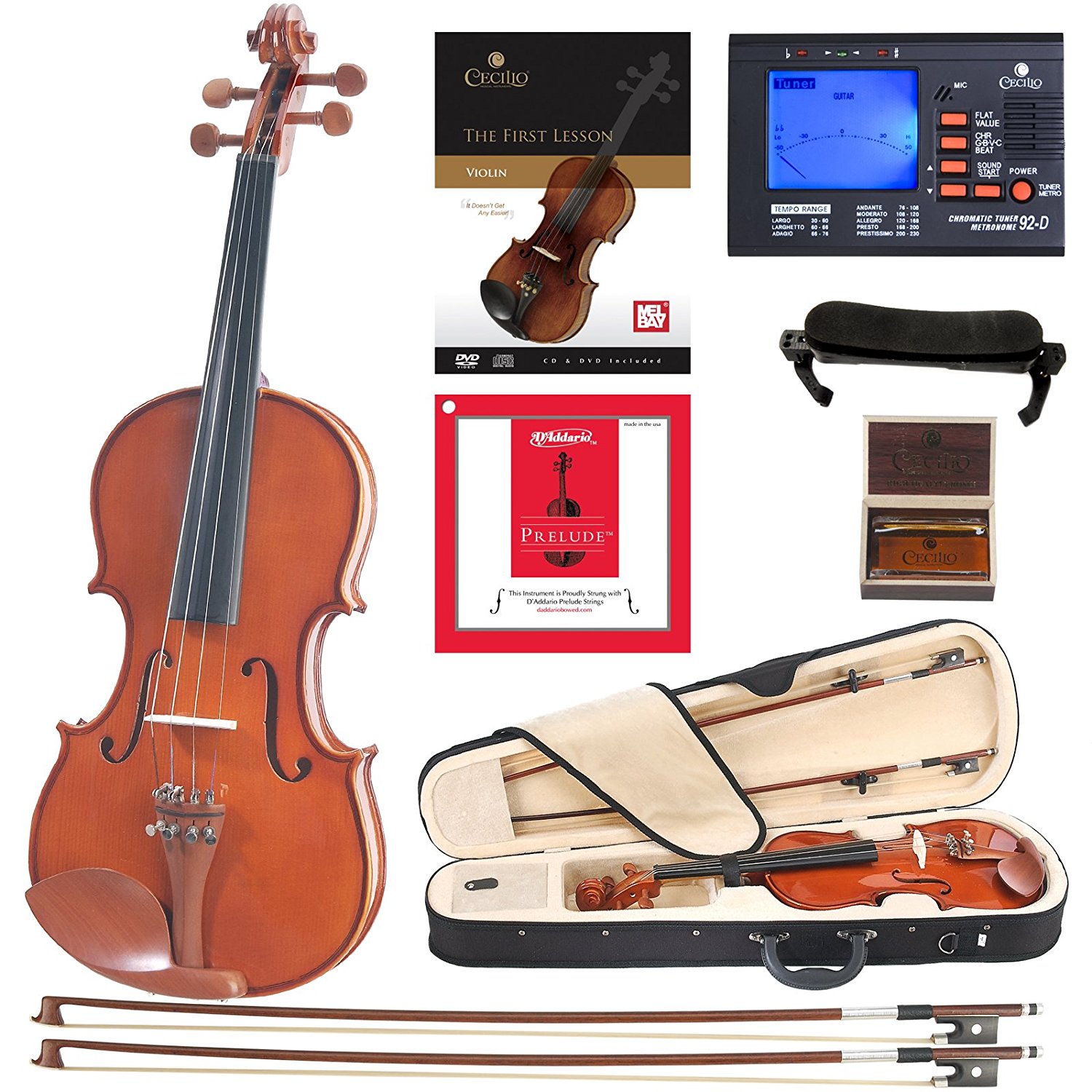 A particularly interesting characteristic of this violin is the attachments. Brown-sugar- or caramel-colored tuning pegs, chin rest, and tail piece take their places on the music item's body, and are installed in a way that allows them to blend spectacularly with the rest of instrument.
They are shiny and radiant, and resemble hot, near-melted candy glistening in the sunlight. Compared to their bodily counterparts, they appear as stones on the beach that reflect the light of their host's figure adoringly.
Though not the typical black, they should fit in most youth orchestras fancily, and will not pose as a distraction to viewing and listening audience members.
The fingerboard is ebony, and it also shimmers warmly. It might be compared to an obsidian sea in this beach picture, as it is visually appealing and tacitly supportive. It allows for players, especially inexperienced ones, to slide from one position to another with little trouble, and promotes a painless fingering experience.
Players will find the board to be reactive and sensitive, and might feel more secure with tapping the strings, as the neck closeness to the strings allows for little contact to be made in order for notes to sound.
The violin is excellent for beginners, as it has a bright tone, and can last for two or three years. However, it is unsuitable for advanced learners, as it does not emit sounds that popular ensembles or other large-scale orchestras would find attractive.
The CVN-200 comes with a hard case that has a light-skin-colored interior, rosin, two brazilwood bows, made with real horsehair, and an extra bridge. A blanket accompanies the set, offering extra protection and visual appeal to whatever is inside the case.
For around $240, the CVN-200's quality is higher than the 100's, and one more bow comes with it. The 200's color is likely the main reason for the price difference.
Pros:
Awesome color fusion
Adheres to modern standards
Hand-carved
Organic and natural look
Cons:
Lacks full tone that some violins have
Unsuitable for professionals and higher-level students
</p> <h2>CVN-600</h2> <p>
The CVN-600 is, as Cecilio describes it, a "Hand Oil Flamed One-Piece Back Violin" that is made in picturesque alignment with today's top standards, and that portrays human craftsmanship marvelously.
It is a darker violin with a red-black, brown, spruce front that seems to glow (under stage lights, especially).
Its back is streaked, like tiger's fur, with black stripes over pseudo-bronze background – maple material pronounces the gleam and blur that the back seems to imitate, and boasts its coat for viewers astonishment. The bottom the neck is beige with brown spots, and it is the smooth in the groove of a hand, offering easy playability and note manipulation.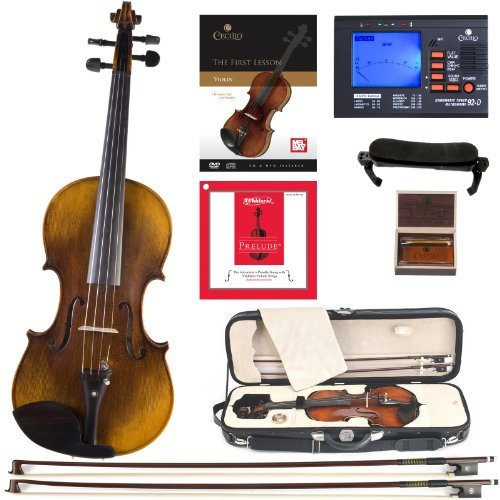 The CVN-600's black fingerboard, tuning pegs, chin rest, and tail piece stand in good combination with the body, and allude to a twilight scene. Made of maple, they finish the violin's overall atmosphere warmly, and make touch comforting.
The tailpiece, tuning pegs, and bottom nut are decorated, each with a circular, mother-of-pearl inlay figure. They gleam against any light that grazes them, and can be noticed by distanced onlookers.
The pearl-white against the anthracite-black makes a cool intermix, and appeals wonderfully even to the mind's artistic critic.
The violin's tone is lush, and is as dark as its color makes it out to be. It can conjure warm and bold tones, as well as cleaner, higher pitches. Its timbres vary from being dampened and shaded – plum-like – to being crisp and sweet, as apples are.
Its interior allows for significant resonance that is deep and full of lovely overtones, and its curvature maximizes acoustic directional goodness, enabling the violin's sonic productions to reach an audience member in the far back of a hall. The violin is shaded, but it is not recalcitrant.
The CVN-600 comes with a hard case whose interior is luxurious. A pocket for a shoulder rest, rosin, wiping cloth, and the like is positioned next to the instrument's resting hole, and is equipped with a gold knob that can be gripped for opening securely. The violin-shaped holder is black, blending well with the case's beige majority.
A hydrometer, which allows for users to check the humidity of their instruments' environment, is imbedded into the case.
The rest of the 600's outfit consists of a blanket (for extra protection and optical pleasantry), an "extra violin bridge", a set of D'Addario strings, two brazilwood bows, and Cecilio's own rosin. The case can fit all of these, while its exterior will protect them from much damage.
Also, the violin itself has gold fine tuners and oil varnish that gives the surface unprecedented shine and sleek aesthetic. The wood of the CVN-600 is aged for a minimum of seven years, granting the violin an older, worn, and novel tone.
For about $1000, the 600 is expensive compared to other Cecilio instruments. It is of fine quality, and is fashioned uniquely and distinctly, in a way that offers a medium between the somber side of art and the ancient works of renowned artists.
It has a wondrous, fantastical tone that can compete with many instruments that are in its price range. The CVN-600 is an awesome violin, and gives its user a visual advantage over his competitors, if any.
Pros:
Dark, flamed, intriguing look
Streamlined sound and texture
Bold, beautiful tone
Standard equipment and attachments
Cons:
Unsuitable for regular professionals
Shaded color might be unfitting in certain settings
</p> <h2>CVN-400</h2> <p>
The 400 is interestingly colored. It is a chocolate-brown hue that seems like it could melt at any hot moment. Its hand-carved, spruce front is undecorated, and even wood streaks are vague on it.
This blankness presents the violin with a distinguishable empty feel, providing the instrument's sound to be the main attraction for audiences, leading members away from the visual aspect of the stage.
A maple back is carved with wood rings showing, preserving the organic nature of the instrument. The material is completely authentic, and its carvers keep careful check to utilize its full potential.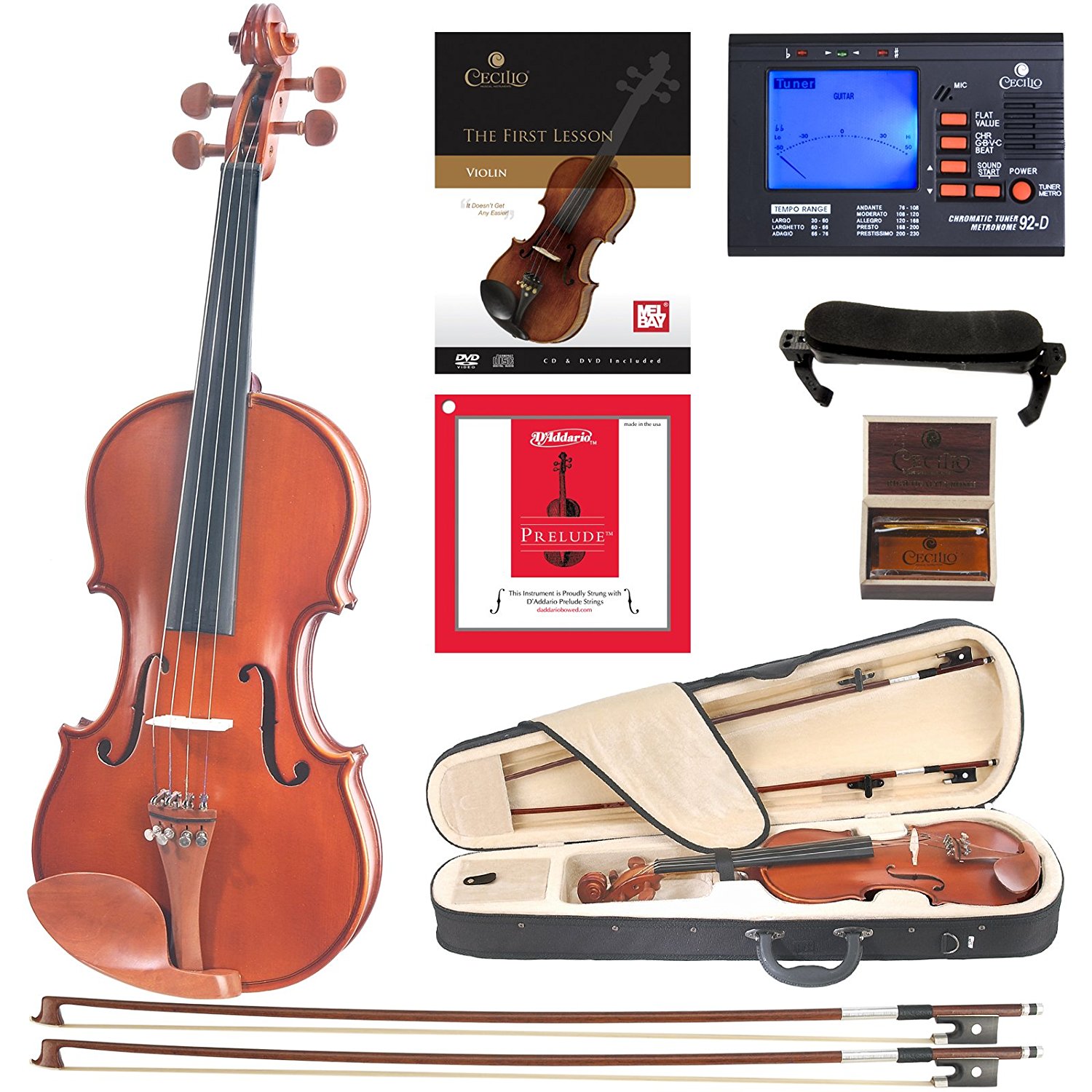 This violin is also furnished with contrasting attachments. The tint of its tuning pegs, tailpiece, and chin rest are designed to blend softly in with the primary body's hue.
As such, they are a slightly lighter brown than the other is, and they closely resemble the coloration of the wood of a guitar or of a California tree.
All visual aspects of this instrument are attractive, and the crafters had in mind a design that could stir the artist in anybody.
Ceciolio's outfit comes with two brazilwood bows, both strung with "genuine unbleached horsehair", an additional bridge, rosin, and a lightweight case. The case contains a blanket, which protects the violin and sustains the interior's optic appeal.
For around $350, the 400 outfit clocks in as one of Cecilio's better deals. The accompanying items nullifies the need to shop for extra utilities, and the violin itself is wonderful for new violinists.
As the instrument can last from two to three years, players are likely to be content with their equipment for a solid timespan.
Pros:
Superb combo deal
Smooth appearance
Great tone
Hand-carved by experts
Cons:
Limiting to professionals
Depth of tone is somewhat lacking
</p> <h2>CVN-800SE</h2> <p>
Luxurious and smooth, classy and stylistic, the 800SE is most things that a player could want in his violin. Its sound is resonant, and its appearance is sleekly dark, presenting an aura of deep emotion combined with a euphoric aesthetic.
The violin looks proud in anyone's arms, and can rest on the shoulder as comfortably as it can honorably. Its texture and shade might conjure images of a Native American's weapon of choice, or of trees grown in forest depths. Though noble, the object is a humble thing, and adheres to the standards set by average instruments.
The 800SE is mostly dark-brown, and has black streaks that signify the authenticity of the material that it consists of. The "hand-carved select solid spruce top (aged a minimum of 10 years)", carries a light, near-faded tone, while the maple back has a stout, gleaming surface.
The curved edges of the violin are wood-worn, and, as a result, are yellow and white, like a tree trunk without its bark. This unique feature distinguishes the instrument from others, providing its user with a subtle visual contrast.
This can attract mildly more attention than normal, though it won't be so conspicuous as to steal the show from the orchestra.
The violin's attachments are black, as is regular, and their woodwork is plain. Ridges and indentures riddle the items, proving that the 800SE is not some cheap, machine-made thing. The tuning pegs bear white rings around their stems, adding another quiet asset to this object.
The violin's sound is resonant and streamlined, and can reach the ears of any audience member in a sizable concert hall. Given its gothic timbre, it is most viable in pieces such as Beethoven's 'Grosse Fuge' and Brahms' Quartet No. 3.
However, it can iterate bright and jubilant notes; it is able to provide the lead role for Viotti's Violin Concerto No. 23, and for the springiest works of Mozart.
The instrument is diverse, and allows a performer to select from a variety of colors. With a mixture of them, he can paint any picture he is capable of, and can provide listeners with an array of good vibrations.
As part of an astounding outfit, the 800SE comes with a carbon fiber bow, high-quality strings, a Despiau bridge, rosin, and a cushioned, crescent-shaped case.
The set sells for about $2000, and rightly so; the violin's bounteous sound and the interior of the case alone are excellent pieces of equipment that can suit even college performers.
Conclusion
Cecilio offers a range of combo deals, each of which are superb and well-prices. With a range of products that are suitable for instrumentalists of many stages, the company is a customer-oriented one, and is aware of the needs of classical musicians in a modern world.