The 5 best Cremona Violin reviews can help you to make a choice about which violin is best for your needs, skill level and budget.
Guangzhou Cremona Company was founded in 1989 and quickly took their place in the world of music by becoming a leader in the production of string instruments.
This globally recognized award winning company offers a wide range of violins that can easily meet a full range of budgets and pricing needs. More importantly they create violins that are durable and that offer an amazing sound.
GCV instruments are distributed worldwide in over 20 countries on 3 continents. They have won 2 VSA silver medals for tone and have been recognized with international awards. This relatively new comer has luthiers from Germany and Italy that mentor their staff.
They are committed to providing the best instruments. It is not just their violins that get the accolades their bows are also award winning. They took home the gold medal in 1990 at the International Violin Competition.
What does all this mean to you?
It means that you can count on this company for a durable instrument that is made to last. It means that you do not have to pay a lot for an award winning violin that will help you to easily improve your skill level. This company has received accolades form industry insiders, magazines and other music industry venues.
They have done a fine job of building a strong reputation for providing affordable student instruments and beyond. It means that you have options that you may not even be aware of, that are great options.
Choosing a Violin
These 5 best Cremona Violin reviews will give you the information that you need to make an informed decision but there are some things that you will have to do on your own as well.
Always be sure that you purchase a violin that you can return. There is no way to really choose a right violin for you without testing it out first. There is a learning curve with every violin and an adjustment period that can take up to 10 days so be sure that you purchase your violin from a company that has a liberal return policy.
Don't buy up! It is exciting to buy a new violin but sometimes that excitement can be translated into buying a violin "for when you improve". It is good to be optimistic but it is also good to be realistic. You want to buy an instrument that you can excel at now.
Buy your violin based on your skill level now and when you do improve you can buy an upgraded version.
The Cremona series of violins are a good option because they are relatively inexpensive yet durable and offer a great sound.
You can start out with the novice student series and easily work your way up to more expensive models that are meant for the more experienced.
There is a full range of models to choose from and these reviews will help you to choose the model that is ideal for your skill level.
Read the reviews, review your budget and be honest about your needs and you will be able to find the perfect violin.
Here are the 5 best Cremona Violins reviews
Cremona SV-130 4/4 Violin with Premium Strings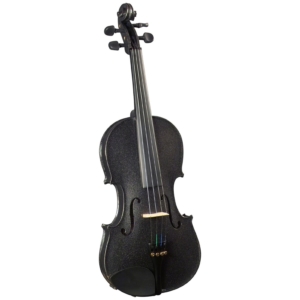 Click Here for Pricing, Pictures and Reviews on Amazon
Every student violin from Cremona offers prelude strings this model offers the premium string kit. This is a very affordable student outfit but you do not have to give up the quality for affordability.
It is constructed with the same premium woods that are used in the higher end student models. It is painted but under the paint you still find the spruce top that is hand carved.
A solid maple back that is also hand carved. It has a solid maple neck, inlaid purfling and a Kaufman type chinrest.
It offers an alloy tail piece and four built in tuners. The bow is made of high quality Brazilwood that has an ebony frog.
The bow has natural white horse hair. It comes with a lightweight foam case for ease of transport. It is a great option for a novice.
Cremona SV 175 Premier Student Outfit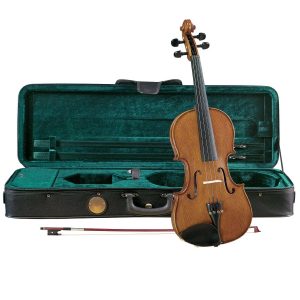 Click Here for Pricing, Pictures and Reviews on Amazon
This is step up from the previous model and has been recognized by Music Inc magazine as designed to meet the needs of beginning and advancing students.
It is constructed of a selection of tone woods to create the best possible sound.
This has been the best-selling violin offered by this company for over thirty years. It offers Swiss type ebony pegs and a composite tail piece that offers four tuners for easier tuning. It has an ebony fingerboard, spruce top and maple back.
It is setup to the standards of MENC. This violin outfit is a great option for any student that is at the novice or intermediate level. This outfit comes with an upgraded case and bow.
Cremona SV 130 ¾ Violin

Click Here for Pricing, Pictures and Reviews on Amazon
This is another great option for the novice with a bit more of a traditional look to it. It offers the spruce top, maple bottom and sides and has a rich oil varnish finish.
This has been a consumer favorite for over 10 years because it offers everything you need to get started as a novice and it has a few perks like the Prelude strings which are durable. The natural unbleached horse hair bow and the look of a much more expensive model.
Students have commented on the ease with which the instrument can be tuned. Even the most inexperienced players have commented on how easy it is to tune this model.
It is a great choice not only because it is inexpensive but because it has all the quality that you want in a student violin.
Cremona SV-75 Premier Novice SPARKLING PURPLE Violin

Click Here for Pricing, Pictures and Reviews on Amazon
If one thing jumped out at you about this violin it would be how much fun it looks like. This is a great novice violin for kids because of the sparkling purple color.
Instruments should be fun and sometimes getting a student interested and helping them to fall in love comes down to appealing to their sense of style and this violin is absolutely stylish but don't worry it still has the great build underneath that sparkling finish.
A great amount of detail is spent on the bridge height and the fingerboard to help new students to easily acclimate to using their violin. It has a lightweight composite tail piece that offers easily adjustable tuners.
This violin is carefully hand carved so you do not have to give up the sound to have a little fun with your instrument. It comes with a bow and a case to match.
Cremona SV-600 Premier Artist Violin

Click Here for Pricing, Pictures and Reviews on Amazon
This beauty is for the intermediate to advanced user it has a beautiful finish and is well flamed through-out.
It has a solid maple back that is hand carved, a spruce top and ebony fittings. It offers a Stradivarius style chin rest and an Aubert bridge. This violin offers many upgrades that you would not expect at this price.
It comes complete with authentic Pernambuco bow, rosin and lightweight case that is fully lined and includes a blanket to match.
It is overall a lovely instrument that gets high ratings from people that have purchased it. It has received 5 stars on a 5 star rating system by people that have bought this model and took the time to review it.
Overall
Playing an instrument can be an exciting journey but every novice will let you know that in the first 6 months they knew whether they would stick with the craft or not.
Violins are some of the most expensive instruments to purchase but it is far more economical to buy one than to rent one but you do not want to have to lay out a lot of cash until you are sure that playing the violin is a passion for you.
The Cremona violins offer a great go between, they are less expensive than renting but they are not so costly that if it is decided that playing the violin is not really a passion you will feel bad about all the money invested.
Of course most experts would also agree that having a high quality instrument is very important when you first start playing to build confidence and to make playing more enjoyable, luckily all the violins that are listed here are of high quality and are constructed with the student in mind.
They are all easy to tune, offer a great deal of comfort and have a lovely sound to them. They all meet or exceed education standards!
You can choose any one of the violins listed here and buy with confidence knowing that you are buying from an award winning manufacturer that takes their commitment to musicians seriously.