"The instrument can be only as pleasant as its player – false! Rather, the player can be no lovelier than her instrument."
Anonymous
D Z Strad, an instrument-making company with a shop located near the heart of New York, is chockful of wisdom and experience in violin design.
Gauged towards audiences of all ages, it offers a diverse set of products whose potential can be realized by novices and professionals alike.
From warm-toned traditional stringed instruments to engraved ones of abstract design, D Z Strad's violin selection is sure to have an exciting feature for everyone.
Each item, whether used for a slew of performances, or as a house ornament to impress even the most distinguished guests, serves its purpose flawlessly, and refuses to displease.
Available for shipping across the globe, the wood objects are accessible by all.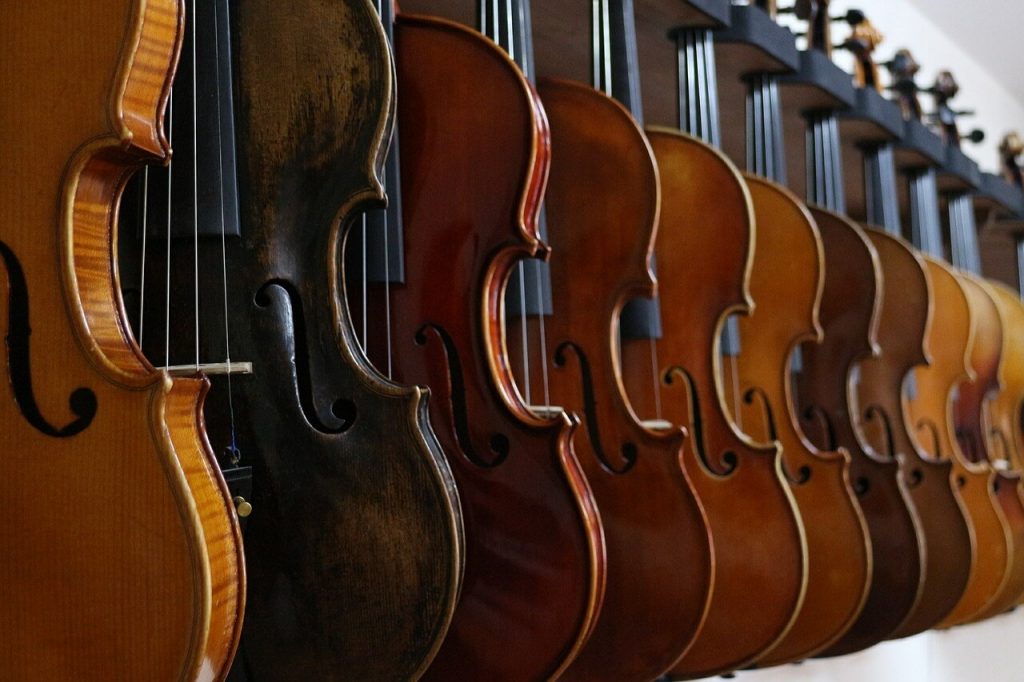 This article serves as an introduction to and a brief tour of the makers' works. Five violins are presented, and each plays a unique role – some are better-suited for live playing, some are fitting for recording-studio purposes, and others function best on the boldest living-room shelf.
All the options here come with a bow and case. Every choice is of stellar quality, and all have wondrous presence.
Best D Z Strad Violins
</p> <h3>D Z Strad Violin DZ601F</h3> <p>
The DZ601F stands as a hallmark of D Z's works. With a single-piece back that displays a varnish of gold underneath dark-red, and hand-carved flower inlay decorating the chin rest, tailpiece, and tuning pegs, its visual assets are the lesser reasons for it to be admired.
Its "malleable, sophisticated sound" has an "openness and ring with color and depth" that is perfect for expositions of established players.
Able to shine with sunlit glory for pieces by composers like Mendelssohn, and to dip into aphotic, gloaming pools for Beethoven-esque composition, its tone spans a vast acoustic spectrum.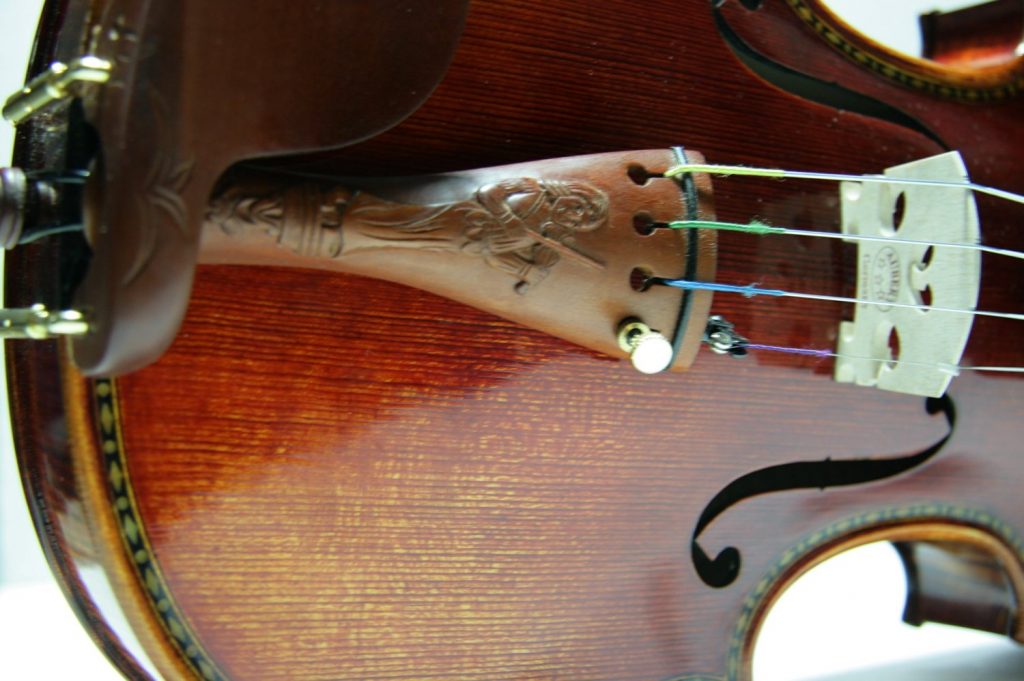 This model is a viable option for college performance majors, youth orchestra members, and string section leaders, and makes for a fantastic graduation gift.
It can instill warm-heartedness, mental peace, and spiritual strength. It is an inspiring handwork to lay eyes on, and a blessed thing to hear melodies from.
With high value comes high cost, and this instrument appears to makes no exception.
To an inexperienced buyer, this might sound like a big blow for a slab of tree, but, to the connoisseur, it should be a reasonable amount, if not a superb sale price.
The DZ601F is made with prime quality spruce that was seasoned naturally in the Italian Alps – the same alps from which Antonio Stradivarius's legendary violins were cut.
Pros:
Sophisticated, gorgeous exterior
Earthy and fortified tone
Works well for group stringers and solo performers
Cons:
Dark timbre makes pieces in major keys ("happy" songs) challenging
Flower inlay might be inappropriate in some settings (e.g., an Irish pub)
The DZ601F's beauty and voice more than make up for the challenge the instrument poses to upbeat-music-players. This awesome violin is great for a plethora of reasons, all of which are hard to find in other items of its type.
Its swooning engravings, its mysterious, quasi-gothic nature, and the dreamy textures of its productions are bound to conjure passionate, intense sentiments in any hearer.
An unusually low price and several companion utilities make this instrument package a stunning deal for anyone.
</p> <h3>D Z Strad N201</h3> <p>
The N201 is another of the company's staples. Made from select Russian spruce, it produces warm, even tones, and bears a neck that offers small resistance to a sliding hand.
Its fingerboard is easy to apply pressure to, and its action coaxes strings into responding quickly to a light touch.
This item is ideal for novices, and works well in orchestral settings. It is a reliable tool for satisfactory practice sessions, fulfilling concerts, and the approval of informed string artists.

Click Here for Pricing, Pictures and Reviews on Amazon
With the instrument comes a bow and case, making an excellent combination of reliable essentials.
Pros:
Classic, humble vibrations, both sonic and optical
Mingles well with standard orchestra instruments
Consistent and fundamental
Cons:
Color range is not as wide as some violins'
Sound is not as "sugary" as one might hope for
The N201 works well in any group setting, and makes for a solid, learner's violin, as well as an advanced student's apparatus of choice. It sets a firm standard for accompanying musicians, and conforms to today's expectations from average string instruments.
This product might not satisfy a symphony concertmaster's live needs, and it might not offer the soaring resonance called for by Mozart's violin concertos.
But, it stands as good practice equipment for any candidate, and can serve as fun in-house entertainment for all.
Its accompanying sale combination puts another amazing deal onto D Z Strad's list of amazing deals, and is no less valuable than its counterparts.
</p> <h3>D Z Strad 505F</h3> <p>
The 505F's sides and head possess a lovely display of laced vine. Its material, organically dried over 20 years, fabricates bright, cheerful notes, as well as lulling, breezy ones, and its maple back is resolute infrastructure for its range of tones.
Its tailpiece, chin rest, and tuning pegs are hand-carved, and its body is suffused by dark-red and gold varnish.
Gold-plated fine tuners are sure to lure an unwary eye, and even the most critical mind will appreciate the careful manual work that was put into this stylish product.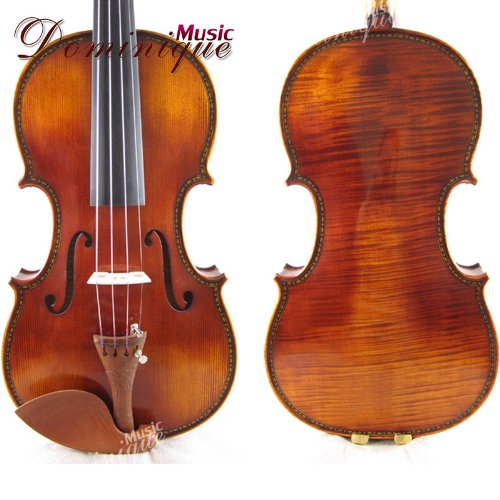 Click Here for Pricing, Pictures and Reviews on Amazon
Like a lot of D Z Strad selections, the instrument is 100% hand oil-varnished, and is made from select Russian spruce, providing soft visual polish and brisk sonic command.
Its chin rest, fingerboard, and tailpiece are standardly positioned, so it should pose no unwanted surprises to folks who are used to playing violin.
Along with a bow with top-of-the-line horsehair and a nickel silver mounted ebony frog, as well as a case that contains a humidity meter and deep cushioning.
Pros:
Gorgeous imagery
Magical tone
Superb for soloists
Cons:
Conspicuous appearance (not ideal for orchestral players)
Bright tone that makes blending tricky
Because of its unique visual components, this violin is often regarded as unsuitable for ensemble purposes. Amongst a cloister of normal strings, it would stand out like a kangaroo in a subway.
However, its fantastic air and impressive aura make it beam excellently as a soloist's instrument. Its bright and brilliant tone can bring exhilarating spirit to any concert hall, while its crisp clarity has the power to coax any being into hushed attentiveness.
With a striking look that is guaranteed to compete with the lavishness of any suit, dress, or polo, the 505F makes for a fantastic musical tool that is worth more than its money.
</p> <h3>D Z Strad #509</h3> <p>
Humble but brilliant, the 509 bears unprecedented color and zazz, and is an excellent token for accomplished musicians and the most basic of beginners.
Its clear undertones and unwavering knack for note suspension make it as necessary a utility as a coffee maker, and its smooth, polished framework gives it a finish that even your sofa would be jealous of.
It is 100% hand-made, and 100% hand-oil-varnished, from select aged European tone woods that were naturally air-dried for 25 years. Its maker himself labels it "a professional level violin", and as one that is powerful with "nice full voice".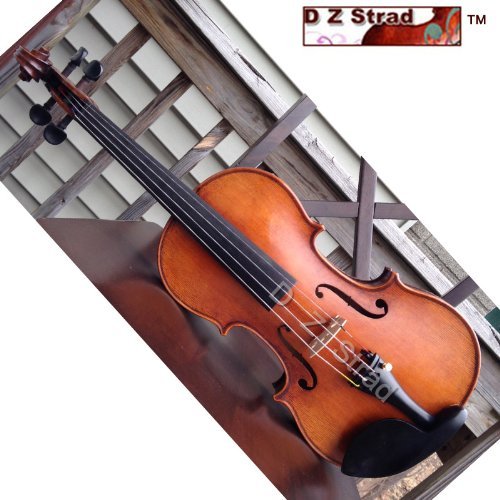 Click Here for Pricing, Pictures and Reviews on Amazon
The 509 is excellent for beginners and professional players, and it is best-known for its reliability. You can order it, its bow, and a sturdy case.
Pros:
Marvelous and full sonic texture
Brilliant energy and feel
Fantastic tool for ensemble musicians and soloists
Cons:
Lack of graphics might make instrument seem plain
Can instill jealousy into peers' heart
The diversity, illumination, and emotional frontiers that the 509 is means to are vast, and the violin claims capability that others of its price only dream of. It works marvelously in any setting, from jazz clubs to symphony halls to recital auditoriums.
Its tone can expand quickly from a dampened and subdued piano mood to a fiery and magnificent forte, espressivo character.
From flashy to modest ones, from wizardly to stricken ones, the possibilities that this phenomenal mechanism allows for are near-endless.
It is rare that one witnesses such high quality for such low cost.
</p> <h3>D Z Strad 101</h3> <p>
The 101 is a superlative example of a novice's practice tool. "A favorite among Suzuki" method teachers and others, its forgiving tone shapes warm, pleasant notes, and its smooth surface makes for easy shifting and pressing.
It is hand-carved from aged tonewoods, and its coloring is organic and plain, making it a nice sight in orchestral settings.
Of the violins reviewed in this article, this is the least pricey. It can be purchased with a free bow, rosin, and a case.
Its title, '101′, assures that it is designated for beginners, while its sound's timbre should meet the standards of an intermediate musician.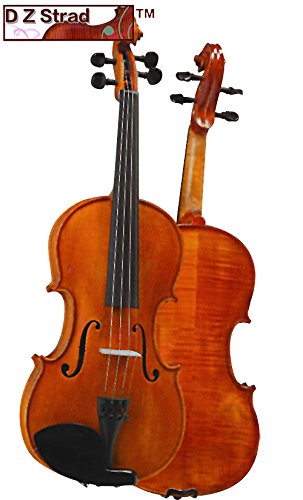 Music educators worldwide will be pleased by their students' use of this art piece. Its design is straightforward, and its simple build makes for honest playability.
Analyzing and solving in-lesson issues becomes easier, because the trainer hears purely the learner's expression, rather than deviations caused by the violin's construction.
Pros:
Exceptional case of a beginner's item
Immediately recognizable as an above-average instrument
Makes for enjoyable 'Child's First…' memorabilia
Cons:
Resonance type does not grant virtuosos full expression capacity
Undesirable in professional performance settings – too rookie-oriented
The D Z Strad 101 is a fine starter instrument. Its smoothness is unfailing, and its streamlined texture is guaranteed to set a young trainee onto the right path.
Teachers are bound to admire the accuracy with which it presents their students' technique, and might find picking out nuances in their playing to be much easier.
Not meant for master recitals, it does not compare in fancifulness to the 509, and does not embody the illustrative flare that the 505 does, but it has worlds to offer to novices, and acts as a wonderful practice device.
Conclusions
All the violins mentioned in this article are masterfully hand-carved, vivacious in sound, and beautiful. Each has a distinct voice that can excite listeners and users, and that can inspire young and old people to achieve new artistic and creative heights.
Since the instruments come with great cases and bows, their prices make for incredible savings that are unperturbed by questionable quality and it makes them best violins for the money.
Each bow is made with "finely selected horsehair", and its frog is made up of "nickel silver mounted ebony with abalone eye and slide". Nickle silver winding enwraps the stick's lower end.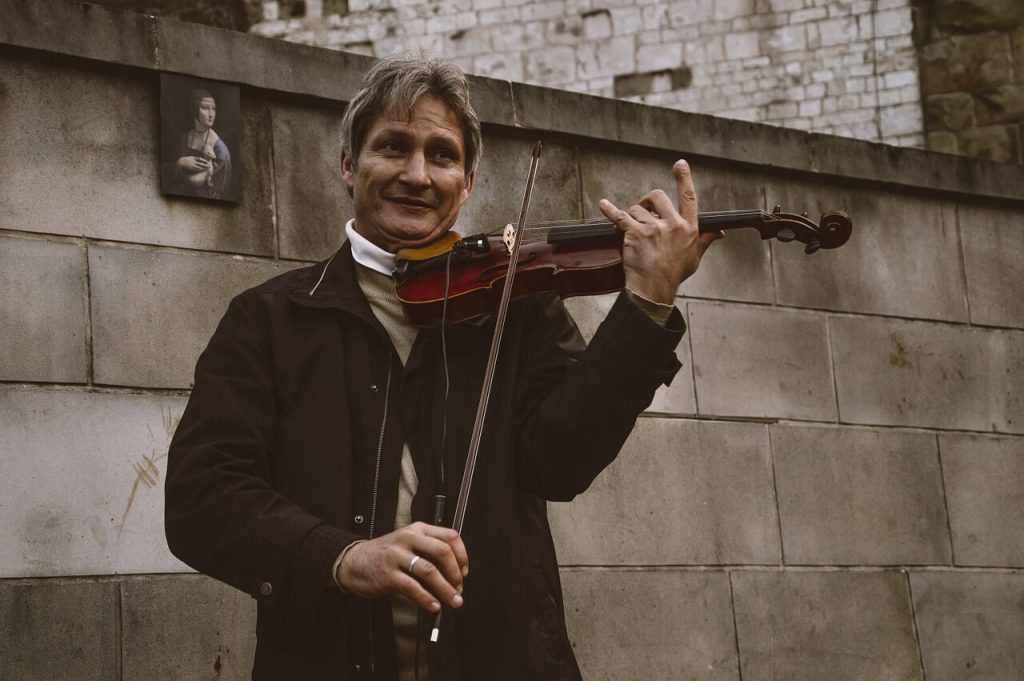 Users of D Z Strad violins will certainly gain the respect of those familiar with the company, as well as the admiration of observers who have never heard of the brand.
D Z's reputation is phenomenal, as customer reviews almost unanimously praise the makers' products and services.
Statements like "Well worth the money!", "Absolutely beautiful violin and bow", and "I loved coming here" make the establishment's distinction indisputable.
A small note about the type of wood these violins use: as was said, the Italian Alps is the origin of Stradivarius violin material, and other renowned makers such as Guarneri and Amati hand-picked trees there for their creations.
To be able to own an instrument that came from the same region as these tree spawn for so low a cost is nothing short of astonishing.
Even if you do not purchase one of these items, they can all certainly be cherished. D Z Strad is a dependable company, and deserves the honor that it has been given.
All quotes were taken from either the D Z Strad website, or from Google reviews.