Electric violins are not a new addition to the instrument repertoire that is available but they are becoming increasingly more popular.
These types of violins are preferred by young people that are just getting started with music because they offer a much more progressive sound and fit more comfortably in modern genres.
Of course the younger generation love the ability to play an instrument that is more modern than the traditional violin.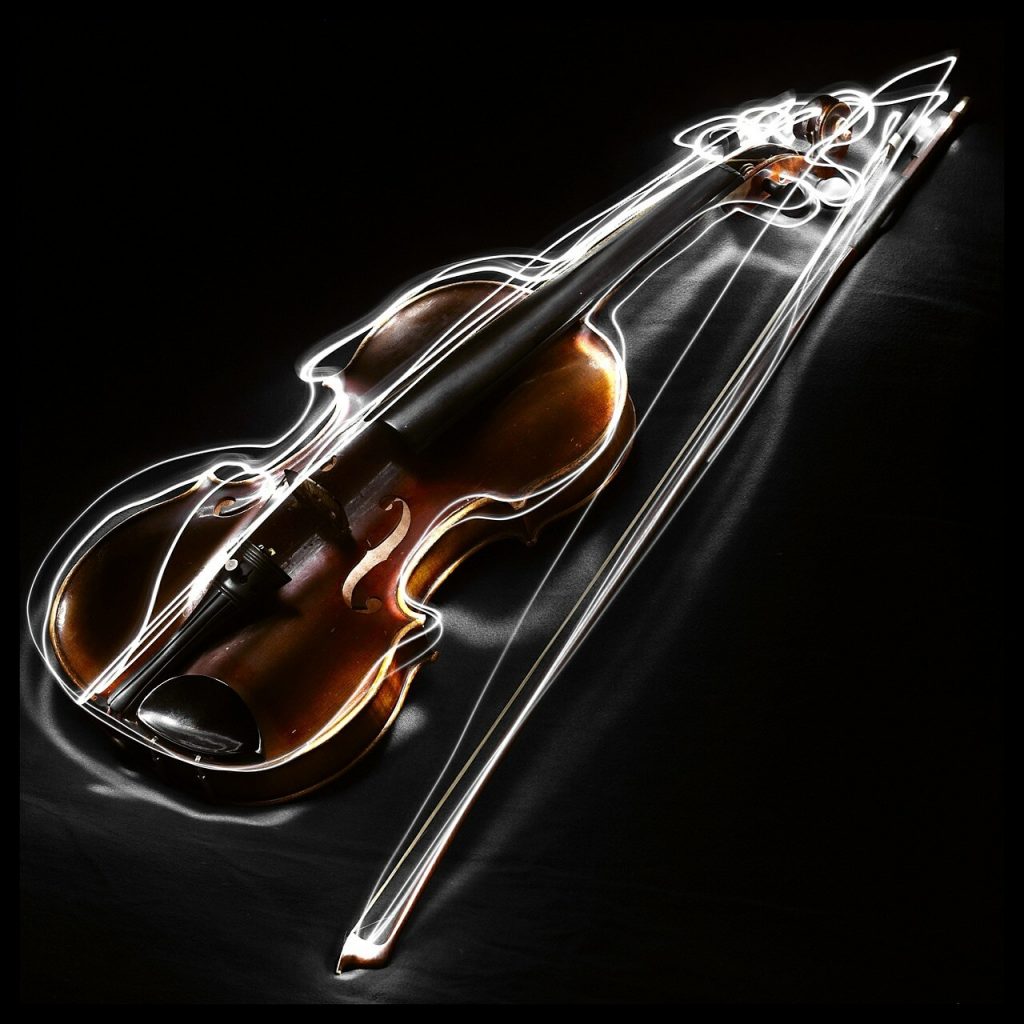 Choosing the best electric violin to either get started with or to graduate too can be a difficult task. We took the steps to make it a little easier by reviewing the 15 best electric violins so that you can filter through and see which one will be the perfect option for your needs.
Electric violins come in a wide range of shapes and designs. There are solid wood, wood/composite mixes and some complete composites that are available.
There really is no one best material to choose, it really is a personal preference matter as to what material you are interested in working with.
https://www.youtube.com/watch?v=-_CuVZze-jA
For some people, they prefer the traditional look of an acoustic violin while others prefer something a little more modern looking.
Traditional Looks
The traditional look may actually be easier for those that have been working with acoustic violins for a while because it is very familiar there is nothing to get adjusted to.
The traditional looking electric violin is actually typically able to play both acoustically and with the amplified electronic feature. Traditional looking EV are easier to use for some people because it is within their comfort level.
More Modern Looks
We wanted to give something for everyone to consider so we also looked at some unique designs. One of the most common EV designs in the open back or open based model. The designs vary as do the materials.
One of the key reasons that many acoustic players turn to the EV is because they use them for silent practice. Silent practice is an ideal option for anyone that lives in a space where repetitive music can disturb neighbors.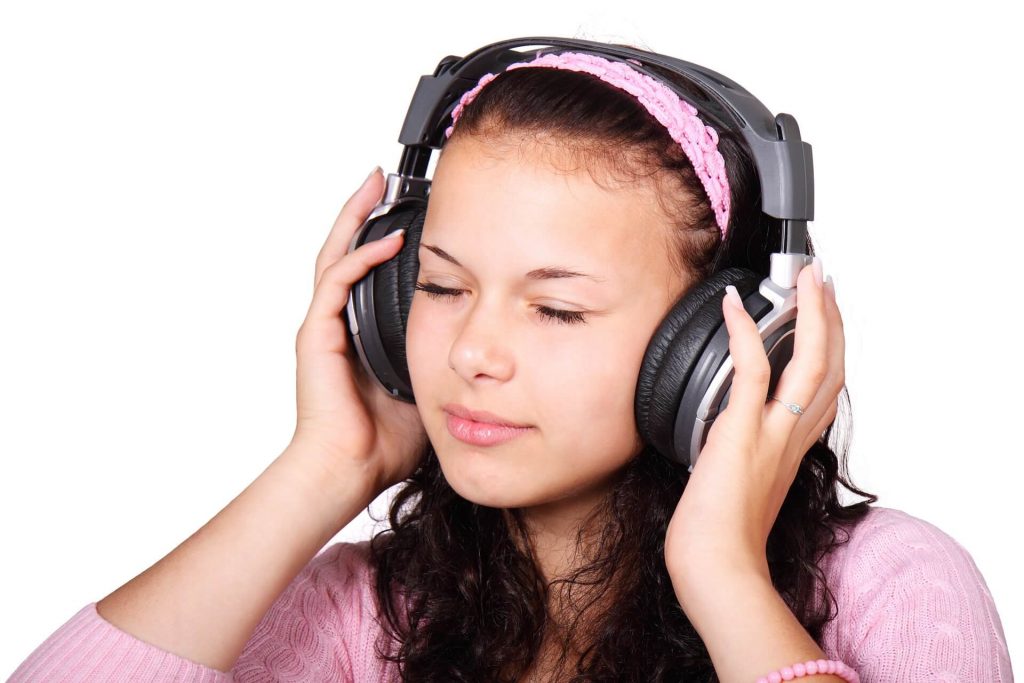 If your interest in the EV is limited to strictly for practice sessions to use the "silent" feature you may want to consider an acoustic looking violin to keep in line with your main goals.
If you want a violin that has a nice stage presence and you plan on playing the EV on stage, then you may want to consider one of the more modern looking options. Of course which model you choose really depends on the genre that you focus on.
If you focus primarily on classical music than clearly a traditional looking EV would give you more of an authentic stage presence.
If you play jazz, blues, rock and roll or another genre you may want to consider one of the modern looking designs because they would be more in line with our stage presence.
The Criteria We Used
When we set out to review the best electric violins we were overwhelmed by the number of options that are out there so we had to set up a clear list of criteria to narrow things down a bit and make the list of potential choices more viable. We considered the following in our search:
Cost
Reputation
Build
Reliability
We understand that budget is typically a concern when you are purchasing a new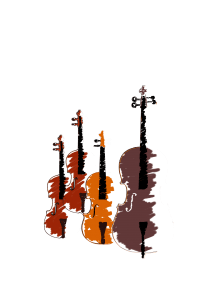 instrument so we did our best to find options that offered a wide range of price points.
The reputation of the brand is also an important factor to consider, typically brands that have a good reputation have earned it by producing great instruments.
Sturdy construction and thoughtful design is also one of the ways we narrowed down the list.
When making an investment in an instrument no matter how small or large it may be there is also the need to ensure that the instrument is built to last.
An electric violin that is easy to use and offers reliable operation was another criteria we set. We determined the reliability the old fashioned way by using the instrument.
Of course, we also wanted to choose a smattering of different designs to give you a wide range to choose from.
With the list of criteria in hand we determined that the following 15 EV's were a great choice at different price points:
Cecilio 4/4 Solid Wood Electric/Silent Violin
This violin is a nice option for anyone that has a little experience with the EV. It is available in different sizes which also makes it a great option for different age groups as well.
We choose this model based on the price point, the construction and the fact that it is one of the most popular "beginner" models out there but that it is also ideal for intermediate users as well.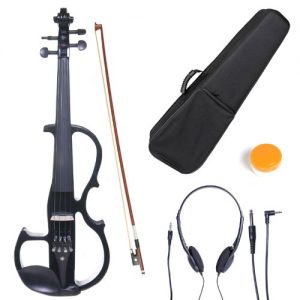 It is not quite up to par for professional use but would work well as a practice instrument for the professional.
The solid wood body is hand carved and it has ebony fittings so it is a well-made option. The price is right and it performs as it should.
Bunnel Edge Electronic Violin Rockstar Outfit
This is a complete outfit that offers everything you could need to get started. The price point is just right considering all of the accessories that you get with this outfit. This outfit arrives ready to play right out of the box.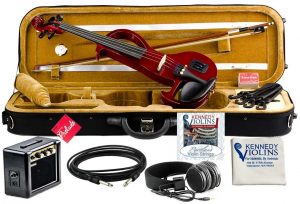 You get the Giuliani Bow, carrying case (nice quality), portable amp, cables, polishing cloth, rosin and an even a 9V battery.
The violin comes completely ready to play with the D'Addario prelude strings installed. The Piezo ceramic pickup is also pre-installed.
This is a great outfit that is perfect for beginners, intermediate users and professionals.
Kinglos 4/4 Colored Solid Wood Electric Violin
This is another outfit that is a great value. The violin itself is a showstopper, it has a very flashy look to it and would look excellent on stage. This is a complete outfit.
The violin is hand carved from spruce with solid ebony fittings. You get the case, the cables, headphones, spare bridge, pickup and bow with this outfit. This is meant for the intermediate user and can easily bridge over to the professional level.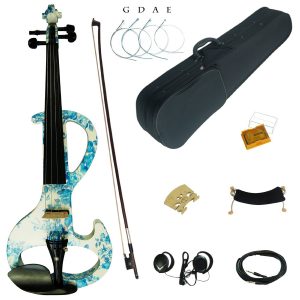 This is a great option at a great price point. Kinglos uses a patented process to paint their violins so that each has a unique custom look. There are different color options that can suit a wide range of tastes.
D Z Strad Electric Violin Outfit E203
This is a little more expensive than the last few on the list but for some people, it will be well worth the extra costs.
This is an intermediate to professional grade instrument that has a carbon fiber tailpiece with solid ebony fittings. It comes with a Brazilwood bow, earbuds, a case and ¼ inch cable.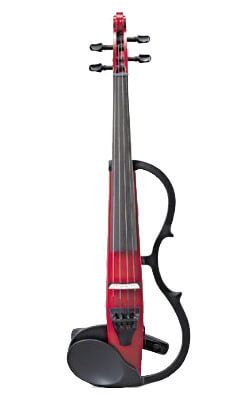 DZ Strad is a well-known name in the violin world and they have a strong reputation for providing well-made instruments they do not disappoint with this model.
If you have some wiggle room in your budget this may be the option for you. It is not especially expensive but it is more costly than most entry level models.
High-grade 8 Pattern Electroacoustic Violin
This is a budget friendly option that we can recommend for the beginner. It comes with a complete outfit that comes with a case, rosin, bow, connector lines and headphones. The violin is shaped like a number 8.
This is an option that you may want to consider when funds are tight or when you have a child that you are not too sure about how committed they are.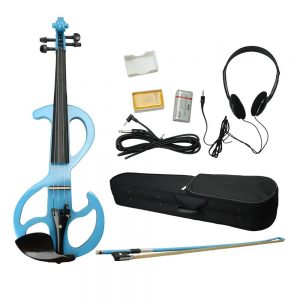 This would be a great value for any beginner. It is a good entry level option for anyone that does not want to invest a lot of money but that does want to have the reliable quality of a well-made EV.
This option offers reliability and has a nice tone.
Cecilio 4/4 Acoustic/Electric Violin Review
This is a more traditional looking electric violin that can also be used as an acoustic violin with a very simple modification. This is an ideal option for intermediate players.
It has a maple back and sides with a spruce top that is hand carved. The volume control is built right into the side with easy access.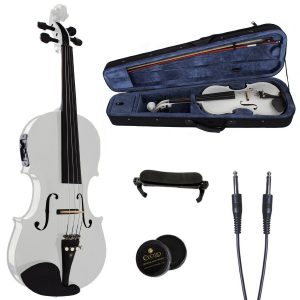 The outfit comes with a light weight case that is foam and fitted. The bow is made from Brazilwood and unbleached Mongolian horse hair. It has an adjustable foam shoulder rest.
This is a well-made EV that can easily meet the needs of both the beginner and intermediate player.
Ted Brewer Vivo2 Electric Violin Review
This is likely out of range price wise for most people but if you are a professional looking for a legendary professional EV this is a "must have".
Everything about this model is made for showmanship from the sound, to the style to the light show that you can create with the easy to use controls.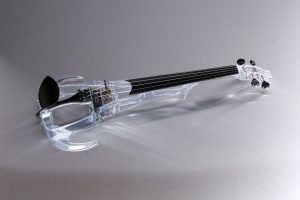 It is expensive but well worth the investment for the professional that really wants to bring something extra to the stage.
This is a highly recommended option for anyone that needs an EV that not only performs at a superior level but that also has a tremendous stage presence. If you have the money, buy it, if not set it as a goal.
Barcus Berry Vibrato-AE Series Electric Violin
This is a great option for the intermediate or beginner. Barcus Berry has a positive reputation for providing seriously reliable instruments.
This violin can be used both acoustically and electronically, it is offered in a range of color options and quite a bit of attention to detail has been paid.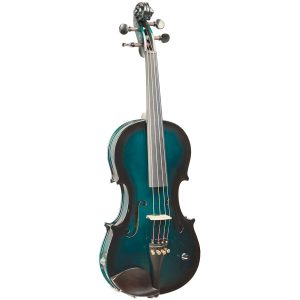 From the solid maple bridge to the hand carved spruce top to the carbon fiber bow this is an excellent outfit that offers a great deal of value. Barcus Berry has the capabilities to create an EV so they are always a good choice.
NS Design WAV 4 Violin Review
This is not your average looking violin. It has a unique design and is crafted from solid maple with ebony fingerboard. It offers a passive Piezo pickup and automatic string clamping.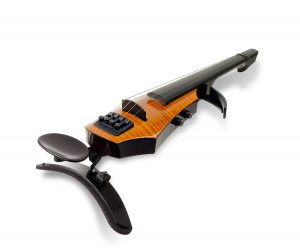 It is a nicely styled violin but it may be a little difficult for a beginner to navigate because of its unique style.
It would be a great option for an intermediate player or a professional that wanted to try something a little different.
Aileen Acoustic Electric Violin Review
This is a completely affordable full outfit that offers everything you need to get started playing the electronic violin and it is a very affordable option.
This is a great option for someone that is at the beginner level or that has some experience playing an acoustic violin that wants to try the EV.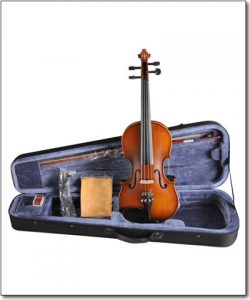 This is a good choice for the beginner but would not likely be ideal for the intermediate player.
This is a newer brand that has not really established a reputation either way but we were happy with it.
Merano 4/4 Full Size Fitted Electric Violin
Great beginner option. This EV has an open design that looks rather high tech. It is affordable and would be a great choice for anyone that is at the beginner level.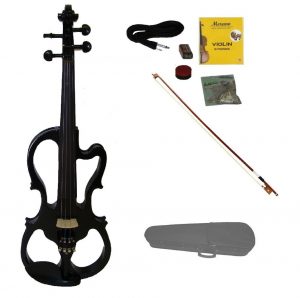 It is solid maple, hand carved with ebony fittings. It comes complete with a brazilwood stick bow with ebony frog, carry case, extra set of strings, cables and earbuds for silent practice.
This is a good value for anyone that wants to play the EV and that is working with a limited budget.
Cecilio 4/4 Mahogany Metallic Electric Violin
This is another open design EV. This model is hand carved from mahogany wood and then painted. It offers ebony fittings and is sold as an outfit which includes everything you need to play.
Included in the outfit is a Brazilwood bow with unbleached horsehair, cables, headphones, bridge, rosin cake and hard lightweight carrying case.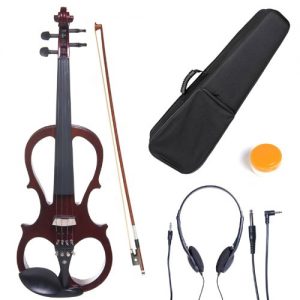 We were impressed with the tone and the way it resonates. It is a good option that will make any musician happy with the results.
Stagg EVN 4/4 BK Silent Violin Set Review
Stagg is also a well-known name when it comes to violins. This is a solid maple bodied highly lacquered violin that is ideal for intermediate skill level.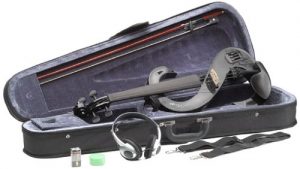 It has a two band equalizer, comes with a hard body case that is light weight. The outfit comes with a bow but the bow is not really up to par.
You can easily remedy the situation by upgrading to a better bow which will only add a little more on to the total cost of the outfit.
4/4 All Real High-Grade Electric Violin
This is an excellent option for beginners it is a complete outfit that offers all that you need to get started. You get a round box that is comfortable to carry, high-quality rosin, headphones and cables.
It is a great option that will fulfill the needs of any beginner. It is a good value, has an interesting design and is built to last.
Although we did think it was a little higher priced than it should have been considering that none of the fittings are real ebony, it is still one of the best options for beginners.
This would not be a good option for anyone that is at the intermediate level or above but is perfect for the beginner.
Christina Electric Violin Velectric 4/4
This model is 100% all wood that is handcrafted. The violin is made of spruce wood that has long been held to resonate best. The violin is hand polished in the Italian tradition.
There are several designs and colors to choose from to give you a more personalized custom look that you will love.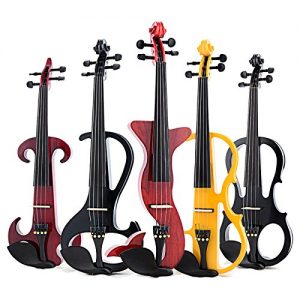 This is an excellent choice for the intermediate player that wants an instrument that makes a statement. This is a very nice violin that offers a very nice tone.
Choosing the Right Electric Violin
Deciding which EV is right for you requires a bit of insight and consideration as to what you hope to get out the violin. There are some questions you should ask yourself before you set out to make the purchase.
It can be very tempting to buy the most expensive option just because we all tend to think that if we pay more we will get more but that does not necessarily ring true in all cases. To choose the best possible option to meet your needs consider the following points:
How committed are you?
How much do you want to spend?
What skill level are you at?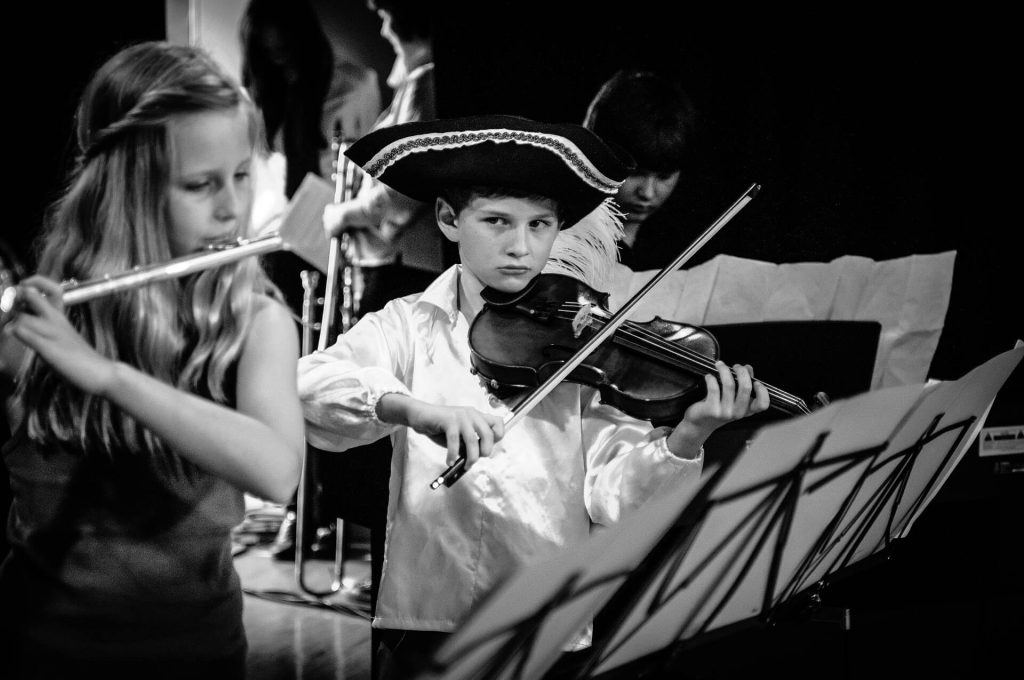 Commitment is a big determinant in how much you should be willing to invest. In other words, if you have been playing for a while and think that you will be continuing to play then go ahead and spend the money.
If you are buying this for a child or a student of any age you may want to put the brakes on how much you spend.
You do not want to invest more than you can afford but you especially need to be wary of spending more than you want to if you are not committed. The money will just be wasted.
Set a budget so you know which models you can eliminate before you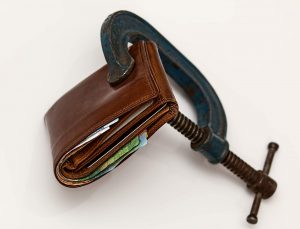 ever start to seriously shop.
Having a set budget in mind that is slightly flexible will help you to narrow down your search more easily.
Of course, your skill level should also be a directive. The more skilled you are the more complex and high-end the instrument it can be. Skill level is a very important consideration.
With a little consideration and using the reviews listed here as your guide, you can have the confidence that you need to make – the perfect choice.
Keep an Eye on the Future
If you are committed or your student is committed you want to be able to keep an eye on the future so you will want to invest in something that you can grow into or that your student can grow into.
A little challenge can go a long way in learning so when you are considering an option if you have some experience and are committed you want to buy a model up from your current level.
Buying a level up now can save you from having to be in the same position in a couple of years.
Overall
It is important to choose the right EV that you are comfortable with. Considering the choices carefully will ensure that you or your student player gets an instrument that you/they can play comfortably and feel confident playing.
One of the greatest challenges any musician has to overcome is to find an instrument that compliments their playing style.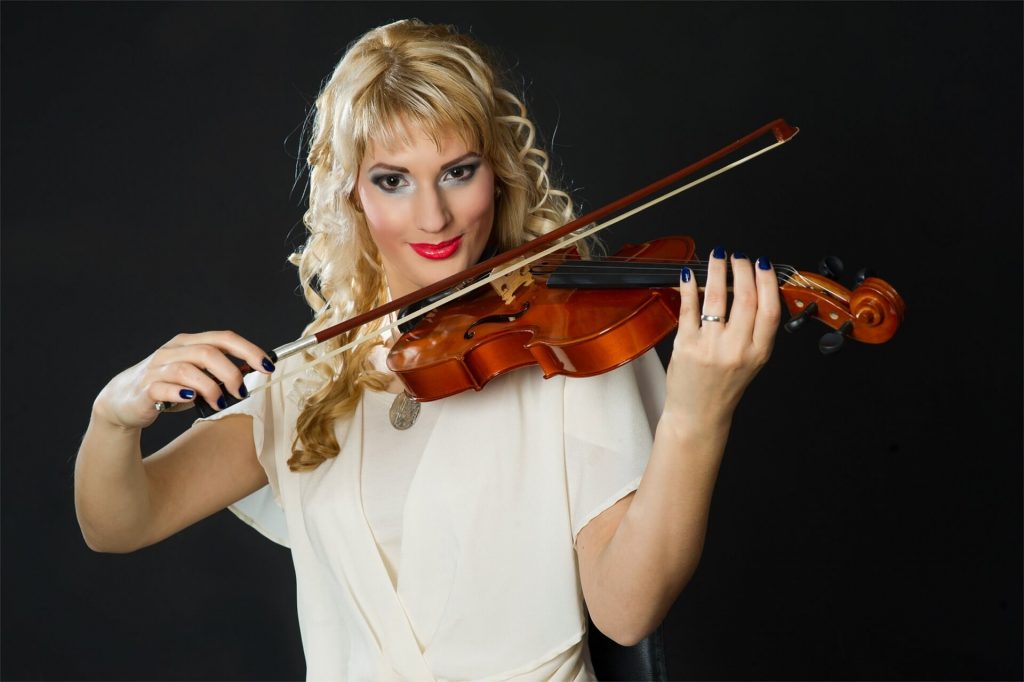 In many cases when a beginner winds up with a less than stellar instrument and have to struggle to get the sound that they want they become discouraged and wind up giving up on the instrument.
It is very important for the beginner to have an instrument that will provide a good playing experience to encourage.
Taking your time to choose the right instrument will pay off nicely now and for the future. If you choose a quality instrument it can carry you through beginner skill level and intermediate skill level.