From basses and cellos to violas and violins, Stentor carries a wide range of introductory and advanced instruments. The company's items are known for their sleek designs and their bold, streamlined sounds.
Able to sing through a crowded auditorium, even over the noises of a full orchestra, the violins, especially, are recognized for their world-class timbre, their unique tones, and their visual assets.
Teachers of young students, as well as concert-goers who hold the highest standards, will praise owners of these objects for their fine taste and smart selection.
From the violin concertos of Mozart to the hallmark pieces of Vivaldi, Stentor violins can be played for a vast spectrum of works, and function well in the environment of any genre.
Whether a tune be of Baroque, Classical, or Romantic style, players will find that the instrument will react sensitively to directions, and that any intended musical message can be conveyed clearly on it.
Serious, unembellished songs will sing perfectly, and poppy, liberal melodies will dance wildly from the object's f-holes. Stentor violins are incredibly versatile, and the colors they allow for are diverse and plenty.
From vast church halls to small porch settings, from soundproofed basement studios to wooden living rooms, the instruments' signature sound can be unleashed anywhere without losing a hint of their subliminal effects.
This article provides a list of top Stentor violin recommendations. It offers a balance of affordability and sonic excellence, and gives a library for beginners and advanced students to browse.
Stentor Arcadia
With a name that became a trope in 18th-century poetry and has come to represent beauty in an expansive wilderness, the Stentor Arcadia has a sound that does not make its title misleading. Made from carefully-selected woods, including spruce and maple, the instrument is intended to be a reminder of the wonderful fruit of nature, and of the delight that it serves.
It is "made in a specialist hand workshop within the Stentor factory" by skilled crafters with supervision from a most experienced maker, in a classic "luthier's environment that would be familiar to makers throughout the centuries".
Prized for its traditional figure, as well as for its superior sound output, the Stentor Arcadia is an ideal violin for users of all sorts.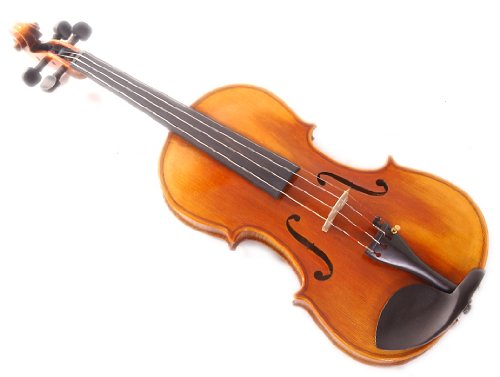 A shellac varnish is layered, by hand, onto the violin, giving the surface an extra gleam and minor additional protection.
The violin's body holds to every modern standard, rendering sliding, tuning, and precision easy and within reach of any student.
The wood is thick enough to carry sufficient resonance, but fit enough not to muffle or subdue any productions. Its color is a medium shade of brown, and blends well in the midst of a large string ensemble.
With a bow that is well-attached, in size, to the violin's length, the Stentor Arcadia package is a marvelous deal.
Children, teenagers, young adults, and seniors can appreciate what all this tool has to offer, as it grants insight into the traditional world of music through its standard build.
Pros
Bright, illustrative sonic quality
Stunning color and gloss
Standard sizing, design, and build
Cons
Not labeled as a beginner's violin
No unique markings or attachments
Stentor Elysia
The Elysia, much like the Arcadia, is hand-carved and made of spruce. Its maple body gives its sound a carved, sonorous texture, and its straightforward curvature allows for a classic, unimpeded sound to reign from its body. Made by the same luthiers as the Arcadia is, it can withstand the critical eye of any violin connoisseur, and can hold its own against any affordable instrument.
The Elysia has a dark body that operates seductively under dimmed stage lights or in intimate private settings. Its tuning pegs, tailpiece, chin rest, and fingerboard are black, holding true to the procedures implemented by today's top violin makers, and contrasting nicely with its larger part.
Wood streaks are clearly visible on the violin's surface, and users will be pleased by the authenticity of its appearance. A shellac varnish tops off the overall look, causing a shine that is bound to catch an unwary bystander's eye.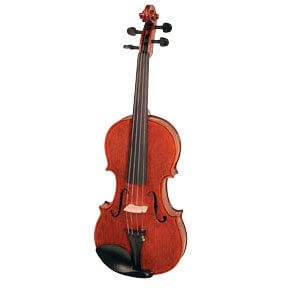 According to the Stentor site, the Elysia is one of the company's "high-grade orchestra models". This being said, the version seems to be suitable for intermediate and advanced students. Whether for an orchestral, small ensemble, or solo setting, performers should not hesitate to bring the instrument along.
Beginners ought not to be discouraged by the instrument's high tier, though; if one does not mind using one instrument for almost a decade, the Elysia is a fantastic choice – it can serve well from the first years of training to a learner's advancing stage.
In some languages, 'elysia' means 'struck by lightning', and it can refer to the Greco-Roman mythological realm of the dead, which was imagined as being blissful. The Elysia certainly takes listeners to that rapturous place, and does not stray from what its name entails.
Its shaded design and smooth body add to the instrument's mystic sonic qualities, and can soothe any raucous audience and tame any wild beast.
Pros
Dark sound texture
Shaded body that makes for impressive stage aesthetic
Holds true to all modern standards
Cons
Not ideal for bright passages
More expensive than normal beginners' instruments
Stentor Messina
The Stentor Messina is an instrument worthy of its self-pride. It boasts a color whose shade is just between that of the Arcadia and Elysia violins, giving it a perfect vintage visual element, and providing it with an appearance that is neither too flashy nor inconspicuously humble.
Beige hues skim the violin's surface, and a chestnut brown makes up its majority. Wooden marks streak vertically across the body, and the material makes for a raw, organic look.
As classic as any contemporary violin can be, the Messina sticks to its roots, and relishes in the glory of the Romantic age.
Regular black tuning pegs, tailpiece, fingerboard, and chin rest put the Messina in its proper place amongst industry-standard violins.
The violin's design is comparable to that of any maker's, and the cosmetic qualities of it can be likened to many a fine instrument's.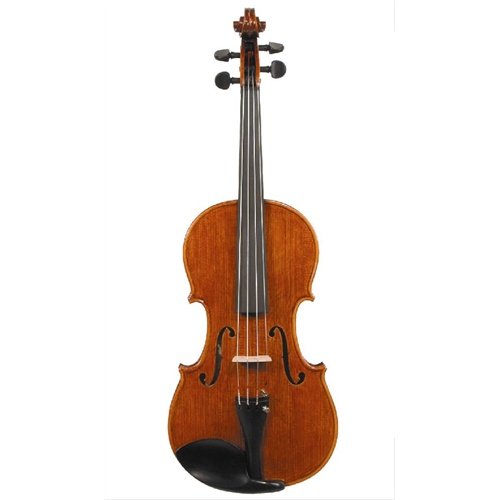 Also crafted by expert makers, whose work is overseen by a master crafter, the Messina is not lacking in any industrial respect, and users might find that their own fingers are more compatible with the instrument than they are with any other.
The fingerboard is smooth, the height of the bridge is suitable, and the head's holes are just slick enough to allow for quick and easy tuning during those essential pre-show moments.
Messina is the third-largest city in Sicily. It hosts a beautiful port and a significant international fair. The Messina violin's maker or namer clearly took these into account, and entitled the instrument well. The musical object would function well in Italy, as its lush timbre and sweet productions are reminiscent of Europe's finest locations and art hotspots.
The Messina is fresh in appearance, and can both blend in with a large group of strings and take to the front of a stage, where it can astound listeners and impress onlookers alike. For experienced – but still-growing – students, the violin can accomplish much, and can be used for many years as a cherished mark of musicality.
Pros
Classic, blended color
Superior but standard sound
Authentic appearance, organic tone
Cons
Geared for intermediate and advanced students – children should be supervised
Not particularly bright, not particularly dark
Stentor Conservatoire
The Conservatoire is often used as a "step-up" for beginner violinists, and it functions as a superb violin for intermediate students.
With a maple frame and a spruce front, the violin delivers standard appearance, and produces appealing sound. Its traditional tailpiece and tuners are considered nominal, as they do not deviate from the norm in any respect.
They are placed carefully and snugly, and are not cheaply manufactured or loosely assembled together. Stentor violin makers know how to hold fast to regulations, and they understand the importance of stability, durability, and traditional construction in instruments.
With a dark-brown body and a light outline, the violin has a pleasing color that can add to the lure of any violinist's sonic releases. The varnish that is placed, by hand, on the instrument adds a unique shine, and does not stray from the line of excellence that history's good violin makers have drawn. In pursuit of a visual texture that matches the contour of the violin's sound, the Conservatoire's designers have crafted an instrument whose body is just as enticing as its soul is passionate.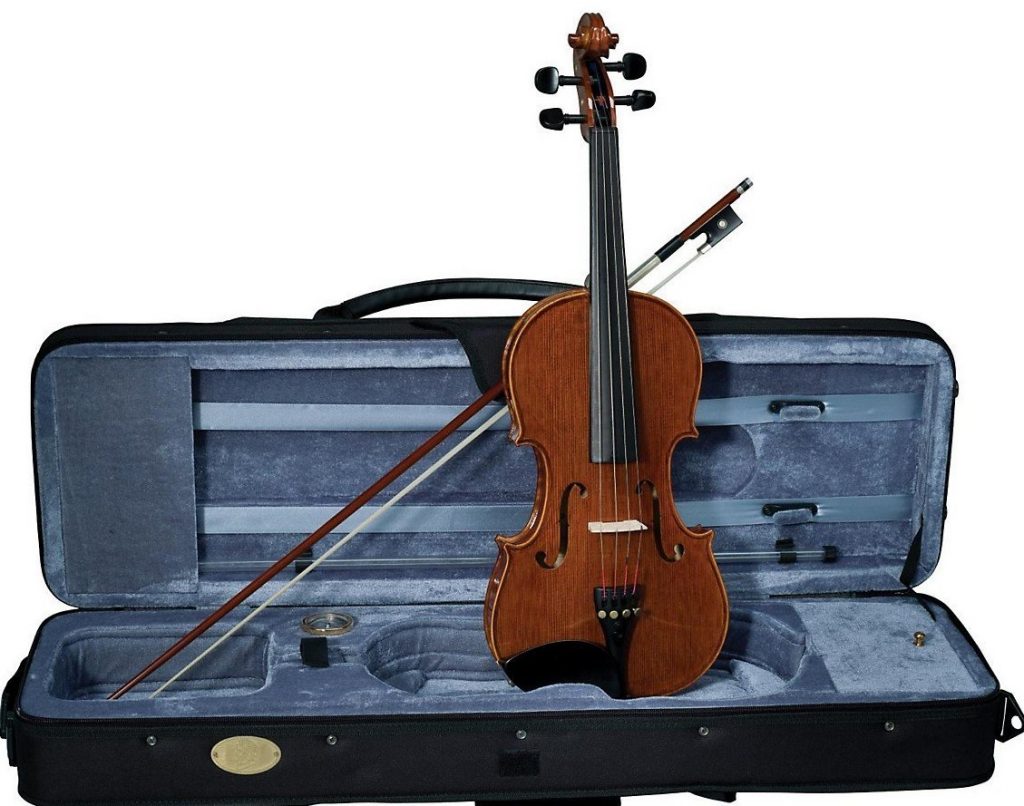 The Stentor Conservatoire Outfit comes with a case, which includes a hydrometer, a blanket, and a case strap, and a bow, whose real horse hair and full ebony frog adhere to any making regulations. The case is, as well as protective and able to shield against strong blows (due to turbulence and the like), clean and simple, and can withstand the scrutiny of a scanning eye.
The bow is well-made, and should not disappoint with a faulty bend or abnormal length. Its weight is just right for the violin's size, and can be used for light bouncing and heavy "digging" into the string. It is great for the lighthearted expressions of Mozart's chamber music, and for the feral feelings of Beethoven's symphonies.
In both sonic and visual senses, the Conservatoire does not disappoint. It is a masterfully-crafted instrument, and will appeal to anyone from age 10 to age 100. Even children will enjoy playing on and listening to it, though supervision should be given to the youngest ones.
Pros
Dark-brown wood provides dark aesthetic
Timbre is subtle and soothing
Outfit comes with case and bow, among others
Cons
Not an expert's violin
Listeners might ask for excessive encores
Stentor Graduate
The Stentor Graduate offers an array of sonic options, including a soft, clean texture and a proclamatory, unabashed tone, allowing for students to explore the depths and summits of music's possibilities, and providing a range of tones, pitches, and tensions to dance and tamper with.
The graduate allows users to switch from morose and sad feelings to upbeat and joyous moods, all while retaining soft, sensitive, and emotional fixtures.
With the Graduate, a player can meditate on lonely, tearful experiences, and can contemplate the glad, hopeful, and free moments of life.
The instrument does not deprive users of any desired effect – its motto might as well be, 'Knock, and the door shall be opened'.
Artistic details aside, the violin is up-to-standard in every respect. Its tuning pegs are held firmly in place, but are simultaneously easy to turn. Its tailpiece is of average size, and bears fine tuners that can manipulate string tension precisely.
Its chin rest is can support the thinnest and thickest chins, and a shoulder rest can be attached easily to the back of the instrument.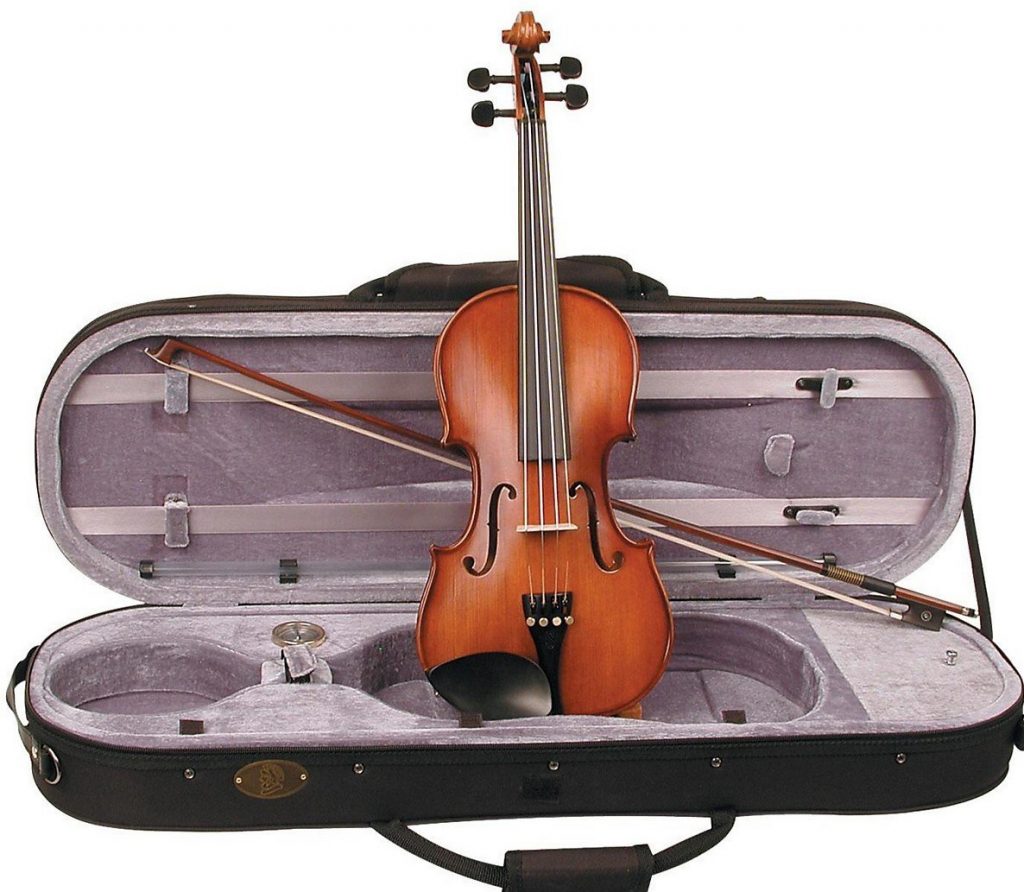 The Graduate's body is formed archetypally, and its color is not lacking in beauty. Its sound is suitable in any ensemble environment, as it is neither nasally nor dampened.
The Stentor Graduate Outfit is complete with a case and bow. The case contains a hydrometer, which measures the humidity of the stored violin's atmosphere, a blanket, providing further protection, especially to strings, and some pockets, for storing rosin, extra strings, a shoulder rest, and the like.
It is sleek – it fits in sharply with any cluster of cases – and super protective. If it were to suffer a ten-foot drop, a violin inside would likely retain its condition.
The accompanying bow is sized according to the violin, and it supports almost an arm's length of sustain. It is made from "reliable wood", and bears a frog whose black color contrasts with the stick's brown shade. It is skillfully cut, and its weight allows for many playing styles.
From flowing, legato phrases to bouncy, staccato ones, the tool will operate well with whatever technique is called for, and will not upset the daring violinist.
The Stentor Graduate violin is an excellent option for young learners, and makes a good high school-entry gift. It can be a wonderful instrument for children, if proper care is taken.
Pros
Excellent for beginners and ongoing students
Confident, clear sound
Outfit contains all starter-violinist gear
Cons
Inappropriate for advanced violinists
Surface does not gleam like the surfaces of others do
Andreas Zeller
The Andreas Zeller violin is known for its direct and streamlined sound, its forgiving usage, and the efficiency with which it functions.
A slick fingerboard makes sliding and position-shifting breezy, and its output provides airiness that locks in with that feeling succinctly.
The violin's quality materials and finely-carved curvature give the instrument a life of its own; it can pose as beauteous without a player to conjure music from it.
Of European-origin, the Zeller has equipment that is as authentic as it is excellent. Wittner, a musical utility company that was established over a century ago, is the name that the tailpiece boasts, and a maple back and neck ensure the violin's traditional roots.
A body made mainly of spruce allows for the violin to be held amongst other state-of-the-art products, and standard sizing and shaping marks it as a standard of its kind.
The Andreas Zeller is crafted in, specifically, Romania. The home country's legacy instills an unparalleled historical spirit into the violin, and gives it much reason to boast. The violin's origin itself is enough reason for owners to brag – the tone simply makes the rights official.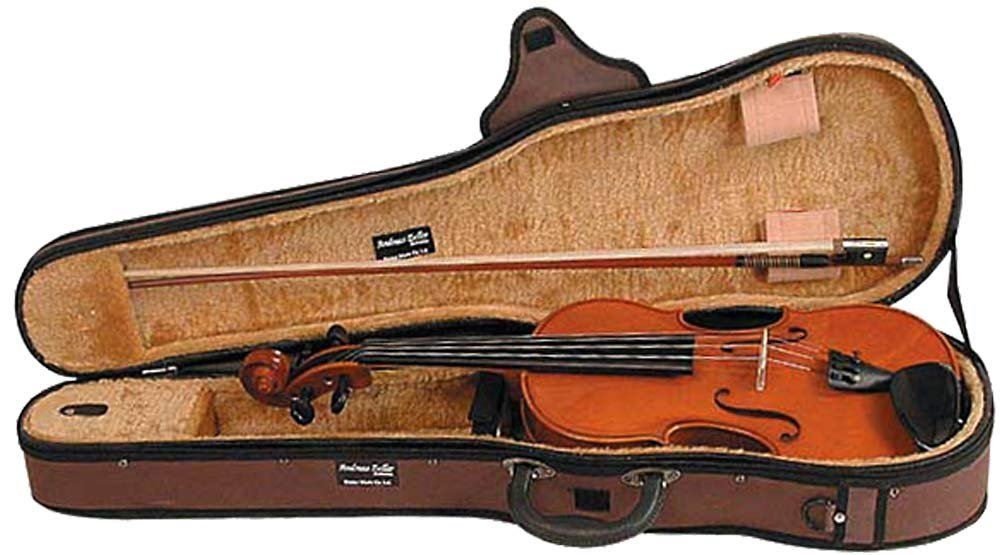 With a tan hue, the Zeller is a gem to behold. The color does not blare obnoxiously, but it can certainly hold attention. However, it contrasts well with any standard violin's shade, and can meld into a setting of string instruments easily.
The sound that the violin produces is warm and vibrant, and can visit sonic places from the energetic wild to ghostly church halls.
It can set the mood in any setting – if guests call for a soothing melody, the Zeller can provide it; if they request something danceable, the violin will not hesitate to respond kindly.
The Andreas Zeller is a superb instrument, for beginners and climbing students alike. Stentor offers a set with the item – a case and bow are included, and trinkets such as a hydrometer, rosin, and a blanket or cloth are part of the package.
The combination is fantastic for young learners, as it gives them all they need to start their musical journey. The case is as stylish as it is protective, and the bow is fitted according to the violin's size.
Real horsehair makes for true performance experiences, and a fully-weighted frog provides balance and grip. Teachers will be pleased to know that the task of searching for extra tools is finished, and much shopping time can be saved by this fantastic deal.
Pros
Combo eliminates shopping difficulty
Violin offers pure, standard sound
Blends well in group environments
Cons
Not suitable for masters
Color is not particularly unique
The Student I is a gold-brown, toasty-surfaced beauty that is not lacking in either sound or shape. It is glorious for the eyes to behold, and it makes fresh candy for the ears. Victorious in every respect, it is an instrument that any student would be proud to carry.
Carved from "solid tonewoods" by skilled individuals, the Student I's humanity rings throughout the body, both in tone and in color. The surface is reminiscent of autumnal festivities, and the sonic elements beckon the winds of Fall.
Crafters, as smart as ever, shaped the body to utmost perfection, making the product's wood a wonderful median between thick and dark, and thin and bright.
The sound that comes from the violin radiates with angelic beauty, and textures remain as full-bodied as should be called for.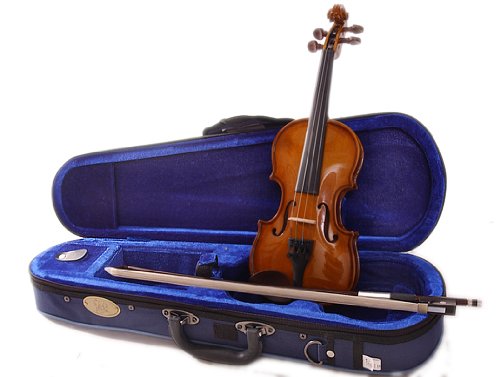 The violin meets all beginner requirements – its body has a layer of shielding varnish that adds a nice gloss, its tailpiece and chin rest are fitted perfectly, its form is supportive of lush tones, and its sound post is in its proper place beneath the bridge.
Black projections – tuning pegs, nuts, and the like – are appropriately painted, and the fingerboard is of ideal slickness and shine. Never one to deviate from industry norms, Stentor's crafters bestowed on the Student I the ability to pass any inspection.
The Student I, as its name implies, is meant for beginners, and can work well with a child's hands. College performers might find the instrument amateurish, but high school students will appreciate the quality it provides, as it should match that of most peers' instruments.
Perfect for middle schoolers, the violin can last a young teenager for about five years; if the advancing student seems apt to continue through higher education, the Student I should be expected to be replaced.
For its price, the Student I, as a temporary instrument, is a phenomenal choice. As Stentor's Outfit includes the violin and a bow and case, a beginner will have all he or she needs for several years.
Rosin, cloth, and straps put learners in good hands, and ease the way into youth orchestra atmospheres nicely.
Pros
Warm body blends prettily with other instruments
Lush tone is suitable for solo and group performances
Hand-laid varnish makes a gleam that is bound to garner approval
Cons
A graduate might be disappointed by the beginner's sound
Color is not super-distinct
Conclusion
Stentor makes an array of quality instruments, from cellos to violas. Its violins are well-known amongst the music community, and distinguished musicians are bound to recognize the company name for its prestige and well-earned honor.
Violinists who bear Stentor instruments are sure to obtain the approval of teachers, conductors, and audio engineers, as those would be surprised and pleased by the clear, humble, and unobtrusive tone.
Whether it be used in a private, solo setting, an outdoor ensemble performance, or an enclosed studio session, each Stentor violin will fulfill what its makers promise, and will serve its function unfailingly.
The company's crafters are learned and knowledgeable, and, throughout the years, have made a name for themselves as keepers of the art's highest standards.