Dr. Dre once said, "Anybody can get it…the hard part is keeping it." This statement rings especially true regarding violas.
One difference between a viola and an onion is that no one cries when a viola is cut, they say – with statements like these riddling the streets, any viola is in danger, and carelessness is bound to ensue.
Keeping the instrument safe is task, indeed, and a necessary one – without the instrument, how could dogs be fed? All the humans would evolve too rapidly to stay on Earth much longer.
A case is an excellent way to maintain order and normality; with it, money can be saved on methods for punishing children. It is imperative that a viola player purchase solid protection, so that sinners can get the reprimand they deserve.
There are tons of case options out there, including, hard, plastic or metal ones, and softer, leather or ones of other fabric.
Though their looks and feels differ, they do the same essential job – protecting instruments from wear and tear.
These options are available and perfect for introductory players and established professionals.
Tonareli VAF1006
The Tonareli is a handsome hard case that will preserve the life of an instrument well. Able to defend against the tirades of angry, regretful violists and annoyed audience members, it can withstand drops of up to 10 feet. It is perfect for children who cannot control themselves.
Its lime-green color makes conspiring violists look as innocent as any violinist, and might encourage other orchestra members to accept the bearer (though this is unlikely). It stands out amongst other cases because of its brightness, making it an easy target – er, thing to spot.
The case has wheels, making travel from the car to the edge of the dock a relaxed experience. The case can roll over wooden roads softly, and can work past even the biggest coal pieces.
Inside the case is soft protection, keeping the viola asleep while being taken to its doom – er, the pawn shop. The black interior is nice for color-contrast purposes, and works well with almost any piece of viola. Detachable straps make carrying and slinging easy, allowing for quick getaways and fast recoveries.
Again, the lime-green of this case makes for quick spotting; the police officer will have no problem finding the case in the evidence locker.
The case has a high section for the bridge, allowing the viola space to breathe. Also, the material of the case – fiberglass – is "tough, light, and weather-resistant". High-tier cases of today are made of the stuff, and university instrumentalists carry it with them regularly.
Finally, a small pad for the viola's head to rest on is provided – why one would need to show the instrument more love than necessary is beyond this article's capacity.
Pros:
Stylish and classy
Lime-green color makes keeping track easy
Shaped to allow any viola to fit
Has rubber wheels
Cons:
Fiber glass can be harmful to skin
Color might be considered excessive in some settings
Overall, the VAF1006 is a nifty case that can handle much exterior force. It is well-built, and is shiny and eye-catching. With it, people will not suspect you of heading to the furnace.
Bellafina Euro
The Bellafina Euro is a sweet mix of early-1900s convenience and modern compactness. It is ideal for any current violist looking for a way to hide away his instrument and ensure that people overlook it.
The case is black, and can almost camouflage against a piano or in a dark closet. It is a pleasant thing to look at, offering musicians an excuse to avoid talking about the viola itself.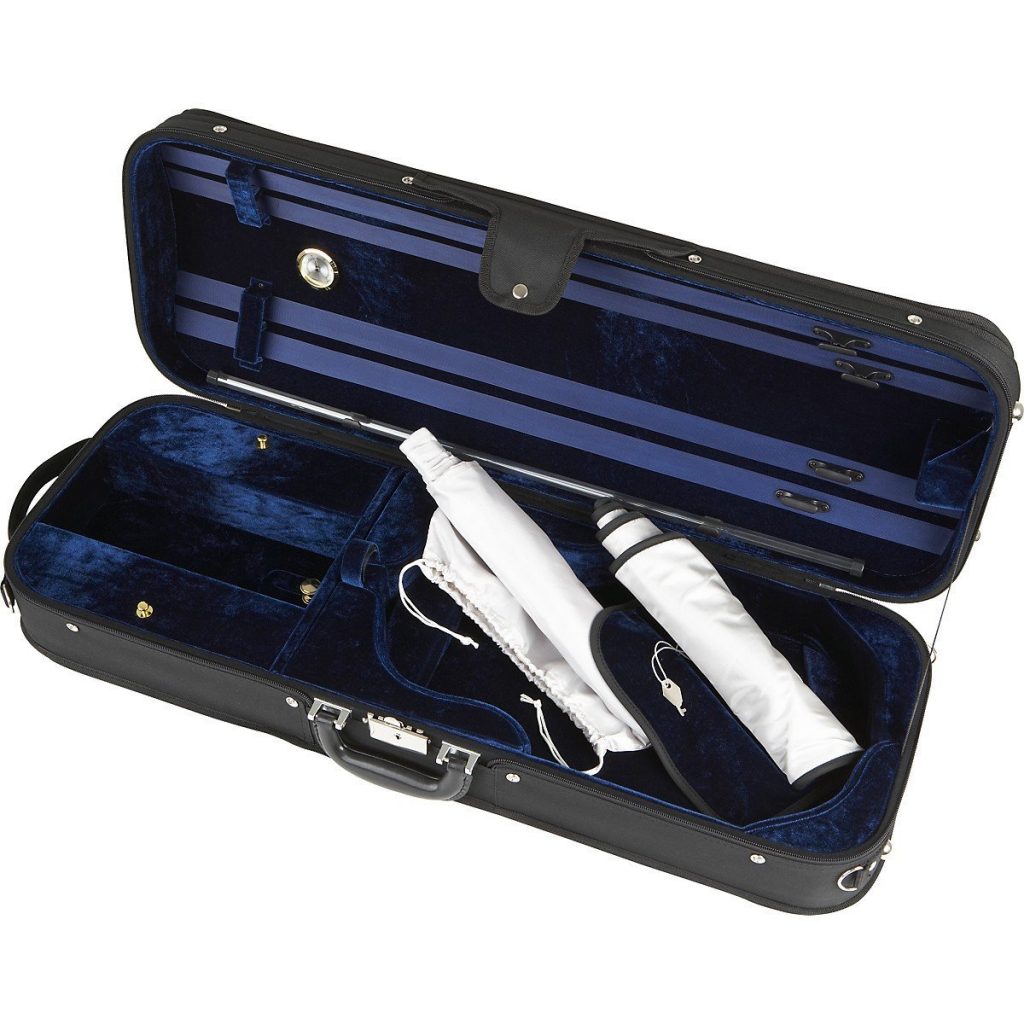 Its zipped top permits the storing of sheet music and other documents, and its handle makes pulling the case away from weary listeners simple.
The case can be zipped, sealed with Velcro, and locked, ensuring that rebels will not use the instrument in their rampage (a frightening image!).
The inside of the case is a fine blue color that glistens in certain light – moonlight would fare the interior well as a user takes her final bitter look at the musical object inside.
The case's décor includes golden nubs for opening the handful of compartments on the inner part, as well as a carrier that is shaped like a viola, with pointed curves to match the viola's only defense mechanisms – its looks.
The case has four places for violin bows, all of which have knobs to fasten the wooden sticks in. Why anyone would need so many bows, one may never know, but the extra space is great. A humidifier is attached to the case, too, allowing for a tired individual to ensure that there's enough – sorry, that there's not too much – potentially damaging humidity inside. Included are cloths that can cover the viola well enough to keep it comfortable and hide the marks.
Straps also come with the item, allowing for users to man the viola effectively before slinging it over the fenc – shoulders.
The case is large enough to store a viola of any size, giving space for even the largest of the uncanny instruments.
Pros:
Sleekly black
Gorgeous interior
Gold-nubbed
Ultra-protective
Cons:
Slightly heavy
Straps are not attached (a sad thing for the lazy ones)
Though the case does have downsides, its benefits greatly outweigh any of its defects. It is effective protection for the eyes of passersby and a wonderful cover-up, if an instrument becomes "lost"; Mom won't be able to tell!
Bellafina Thermoplastic
If you purchase this one, be prepared for some odd looks, because it is in the classic '50s gangster gun case style.
It offers a perfect way to rid oneself of a viola – with it, a carrier can simply walk into a bank, get arrested, and lose the case to his captors!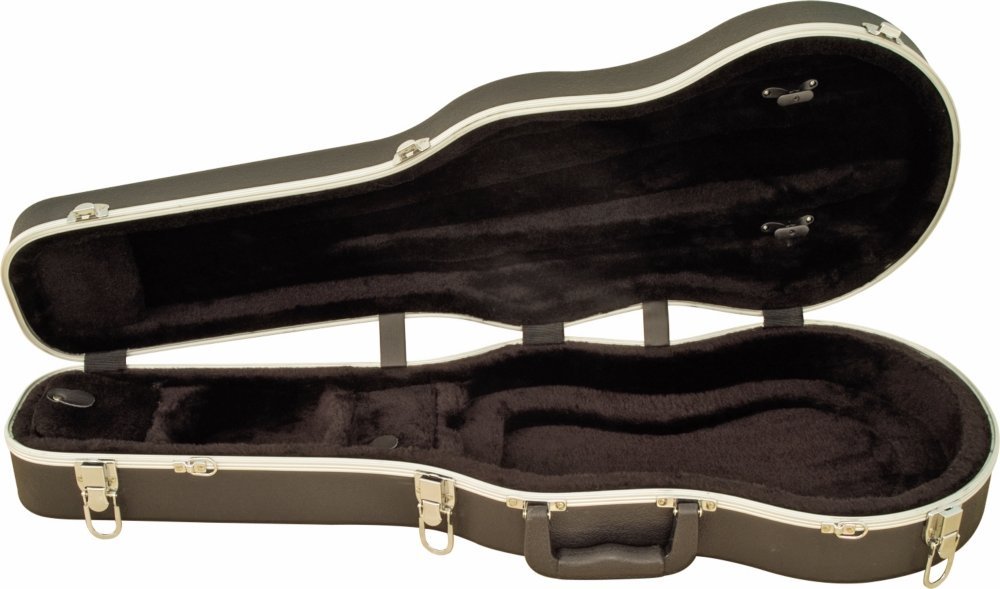 This viola case is a reflective black that shines light at onlookers, to protect them from the harm of the viola. It has three locks with which a user can keep his instrument firmly in place; a key is included.
Without fear of any falling parts, the player can carry himself boldly and proudly (that is, until he opens the case), with the eye of a mobster and the heart of a hopeless romantic.
It can fit into a school orchestra setting, a professional ensemble environment, or into the back of a speeding van. A wonderful addition to anyone's attic, the case is cool and subtle, and promises not to disturb anyone.
The inside of the item has a viola-shaped cutout; the wads of money obtained after, say, a boss has learned of the destruction of a certain musical instrument can fit in it, too.
A small pocket allows for chalk rosin and a cloth to be stored easily, coming with a handle that allows for quick access to the insides. With a soft material, the interior is certain to keep any object in good hands, at least while the object is in.
The full-black color of the case is perfect for hidden motion and slick getaways at night. Because of it, users never need worry about being caught trading the instrument for anything – please, anything – again.
Pros:
Sleek black
Efficient locking mechanisms
Cool look
Soft, protective, and fashionable interior
Cons:
No straps
Plain in color and shape
The simplicity of the case's shape is a clear giveaway for what it contains, and users may feel threatened by this fact (normal people are everywhere).
However, with the protector's subdued shading, even a watchful eye is likely to overlook the object, giving carrier the safety she needs. Most people can agree that the case is chic, and that it would complement a suit, tie, and fedora.
Winter Extra Light Series Viola Case
This case is fine. This case is stunning. It is the bee's knees, the gossip of New York, and the envy of kings.
It is a shining piece of equipment that works well to protect its insides and defend its user's reputation as a man with common decency.
Its inside coloring and hue might distract a vagabond from the viola long enough for its user to run away safely.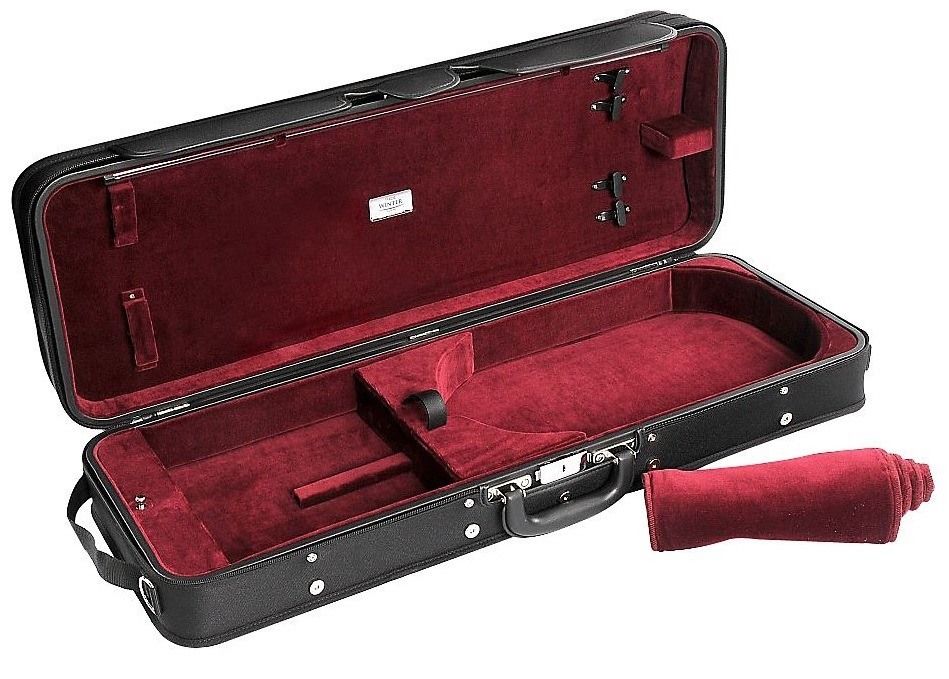 The royal-red color of the interior can make a nobleman cry, and can remind a violinist of the passion that was felt against the viola.
It is a gleaming, lovely interior that can make rubies seem as charcoal in the rough. A matching-red cloth is included with the case, and it fits well both as a stunning accessory and as a thing to hide the instrument with.
Four spaces line the case for holding bows of the same number. The interior is wonderfully designed, giving an owner the ability to compel guests to see past the viola-ownership and, possibly, wish to return.
The case is mainly jet-black, with silver stubs along the edges. It is a solid, resolute color that gives its bearer an air of chivalry, despite the instrument he plays. There is a strap on the top of the case, allowing for easy portability and quick pickup and drop-off.
Super-sealable, the case is equipped with a zipper, Velcro, and a latch that binds it shut. The box is an archetype of modern esteem and learned culture, and it boasts where the viola cannot.
The inside of the case contains a holder meant for a shoulder rest, rosin, and cloth, and is handy for stashing that bag of Skittles. A strap holds the instrument in place, and the soft padding ensures safety wherever the viola goes.
Pros:
Ultra-fashionable
Sensual-red color
Solid-black exterior
Cloth, straps, and hygrometer included
Cons:
Red color stands out; might seduce
Protects the viola
The J. Winter Extra Light viola case is a classy and clean item that can impress onlookers and please conductors. It is filled with standard accessories, and is a pleasant and intriguing thing for anyone to look at.
Even while being associated with the viola, it carries an air of wealth and glory. Though people might scorn it because of its relationship, this world's few viola-lovers will adore it. Its motto could be said to be 'One man's trash is another man's treasure'.
Bobelock Viola 2048 Fiberglass Case
Also made from fiberglass, the Bobelock case is a crescent-shaped, colored, and standard object, ready to be taken on any trip, whether one to concert hall or one to the trash can.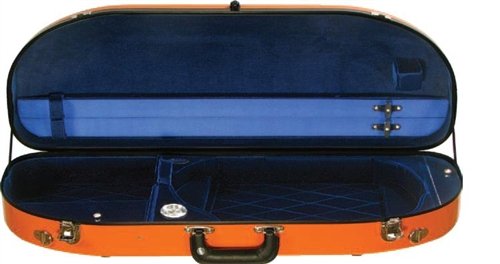 It is hard, lasting, and eye-catching, and it contains plenty of room for accessories. It is weatherproof, and comes in an array of paints.
Pros:
Boldly colored
Hard and enduring
Shaped for fun
Lightweight
Cons:
Typical look
No straps (to sling the equipment with)
The case is, overall, a wonder to set one's eyes on, and is super protective and resistant. With it, the key to ruling the world – threatening it with an intact viola – can be retained.
For about $330, the case costs just under what the most expensive ones do. However, it has the material and stamina to be shelved on the same level as the highest-tier equipment.
Viola cases are many, and are not incredibly difficult to come by. They typically last a long time, and are known to be sturdier than violin cases. Like their instrumental counterparts, they are large and weighty, and they might prove cumbersome in transportation. However, with the endurance that anyone needs to play viola, lugging the case around should be no issue.
As the cases range from around $50 to around $350, options are available to people with tight budgets and those who feel that an excellent viola case is imperative.