Violin pegs may not seem like something you have to spend a lot of time thinking about them, until of course one has to be replaced then it becomes something that you have to think quite a bit about.
You may notice that your violin pegs slip from time to time but that does not necessarily mean that your pegs do not fit correctly.
A drop in humidity will cause your pegs to shrink which is completely normal but it can be an issue if it happens continuously. Permanent shrinkage will have to be dealt with.
Of course the grade of the pegs will play a role in how often the pegs "give in" to the strings. You may find yourself making adjustments more than you feel you should be. In any case sometime during the life of your violin you will have to replace the pegs.
Choosing the best pegs for your violin will help to ensure that you will spend less time dealing with slippage.
Pegs like everything else will wear out over time. You will know when your pegs need to be replaced when they no longer allow your instrument to hold a tune.
They will tune but only for a short period of time before the violin slips back out of tune. It can be a really frustrating thing to deal with.
Switching out the pegs can be a real relief.
Beginners do not typically realize that switching out the pegs is just a normal part of maintenance.
There has likely never been a violin built AND played that did not have to have the pegs switched out eventually. In some cases, the pegs split, crack and break so it becomes a much more immediate issue.
Searching for violin pegs can be a challenge if it is something you have never had to deal with but on the upside of things they are relatively inexpensive so you do not have to worry about the cost being prohibitive.
[blogoma_dropcap style="square" color="#fff" ]With a little bit of knowledge, you will feel comfortable choosing pegs for your violin.[/blogoma_dropcap]
It can also be a challenge to fit the pegs on your own, if you are not comfortable replacing the pegs on your own take it to the shop. You are far better off taking the violin to a shop and having the pegs replaced than you are risking damage.
Wood or Composite?
Most luthiers agree that the best violin pegs are made from ebony, boxwood or rosewood. Of course there are also synthetics (composites) that are available as well but purists would say that the synthetic pegs take away from the beauty of the instrument. In many cases the pegs are a combination of both wood and synthetic (the peg itself is wood while the turning key is synthetic).
The reason that most luthiers will recommend ebony, boxwood or rosewood is because they can be adjusted easily while synthetics cannot be adjusted, the tuning box has to be adjusted to accept the pegs. Ultimately it comes down to personal preference.
Both wood and composite options are suitable options.
Choosing the Pegs
Before you even get started shopping for pegs you will want to take measurements in mm of the peg hole to ensure that you purchase the peg in the right diameter.
Size really does count when it comes to choosing the right peg. If you go to small the pegs will be useless if you go to large than you will have to struggle with making the peg hole larger.
If your size is off a little, some "peg dope" can help but you can only use so much peg dope before it becomes an issue. Being sure to measure twice before you make the purchase will help you to avoid any problems with the installation.
There is a lot of debate about "ruining" a violin by switching out the pegs to certain pegs but the reality is your instrument is most likely not a museum piece it is meant to be played.
While you want to ensure that you maintain the value and integrity of the instrument you also want to be sure that you are able to comfortably play the violin without having to constantly stop and try to get the violin in tune.
Of course you want to choose pegs that are in line with the quality of your violin but you can also use pegs to upgrade your violin a bit as well.
You want to choose a peg that matches your violin. There are a full range of pegs to consider. There are pegs that are ornate, that have inlay and there are pegs that are well just pegs and not much to look at that focus completely on function.
Pegs do not really effect the sound of your violin (they are part of the mechanics of your violin) but skimping on them can affect how your violin plays.
Choosing the "cheapest" pegs can also leave you frustrated as they are less likely to be made from seasoned wood. Seasoning the wood means that the pegs will tolerate the changes in humidity more easily which by default means that they will slip less under the strain of the strings.
The Perfection Planetary Pegs are a good choice if you want pegs that are durable and that may even reduce the need for fine tuners.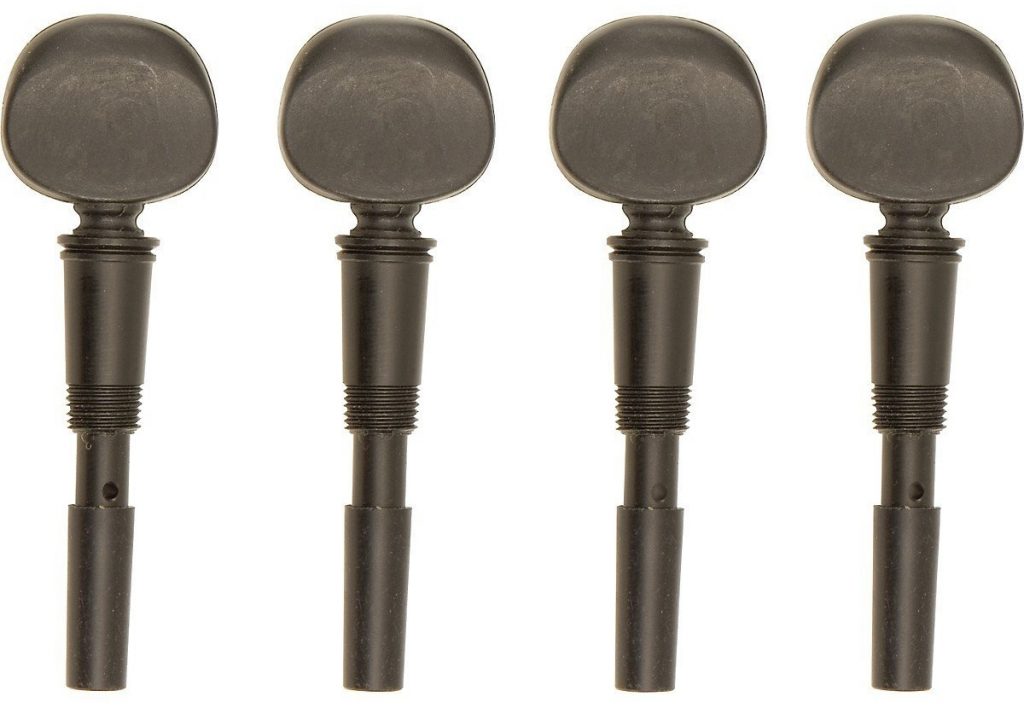 Click Here for Pricing, Pictures and Reviews on Amazon
There are pegs that are designed to all but eliminate fine tuning (which are the most expensive) and of course there are generic pegs that are very inexpensive. You want to choose pegs that are geared toward your type of violin but you also want to make sure that you do not go too cheap.
Good Choices
If you want something that is a little more special these Sky Brand Hand Carved Pegs are not only functional but they are beautiful as well. The Sky Brand Hand Carved pegs are hand carved from Jujube wood and are decorated beautifully.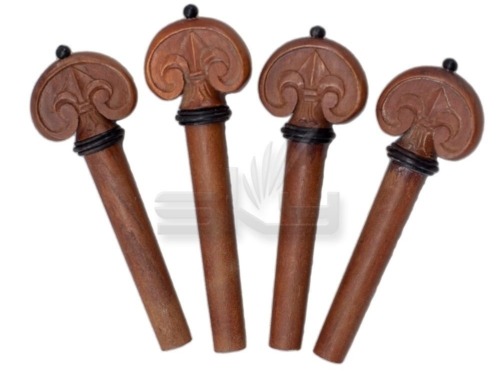 Click Here for Pricing, Pictures and Reviews on Amazon
A good composite choice is the Wittner Fine Tuning Pegs. They are crafted from composite and alloy material. While most of the time composites are not the typical recommendation these Wittner fine tuning pegs are highly regarded as an excellent choice.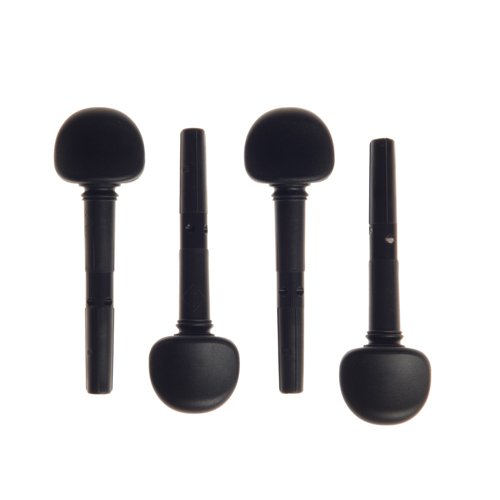 Click Here for Pricing, Pictures and Reviews on Amazon
The Violin Workshop offers 5 sets of Rosewood pegs (so you always have spares) that are crafted in Swiss style.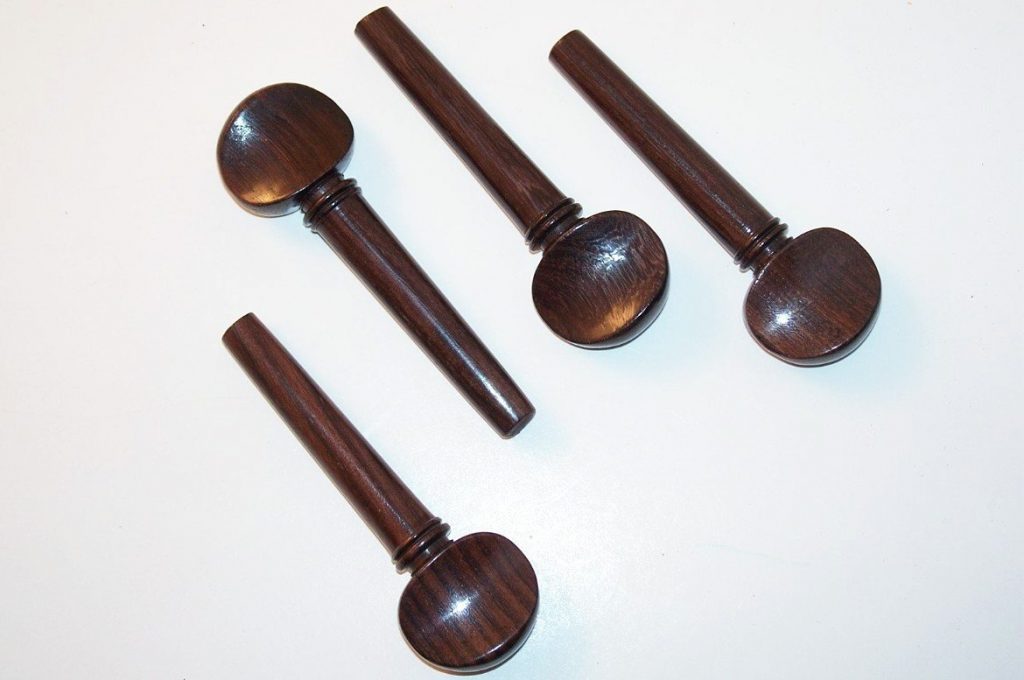 Click Here for Pricing, Pictures and Reviews on Amazon
Muse offers solid ebony violin pegs that have solid ebony pegs and solid ebony end pins.
Firekingdom also offers a solid ebony option as well.
Click Here for Pricing, Pictures and Reviews on Amazon
As Part of a Kit
You can also buy new pegs as part of a kit that will upgrade your violin. Most kits will include a chin rest, tailpiece, pegs and endpin.
If you think that it may be time to upgrade or even refresh your violin you can opt to buy a complete kit instead of just the pegs.
If you are going to bring y our violin to the shop to have the pegs switched you can just as easily have the other components switched out as well. One of the clear benefits of buying a complete kit is that all the components will match.
Theses kits are actually quite affordable as well.
Here are some options if you decide that your violin needs a little overhaul instead of just changing out the pegs.
Hand Carved Jujube Violin Parts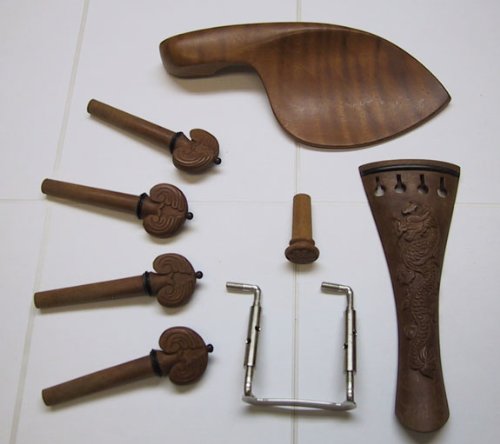 Click Here for Pricing, Pictures and Reviews on Amazon
This is a really decorative kit. The tailpiece has a dragon carved into. All of the parts are decorative and functional. This kit would really give any violin a little something extra.
The best part? It is super affordable.
DZ Strad offers an inlaid violin parts kit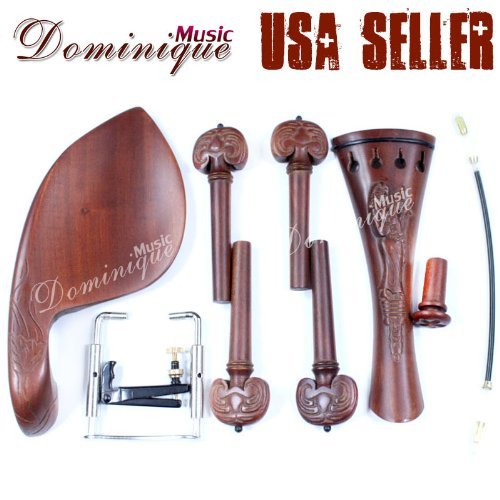 Click Here for Pricing, Pictures and Reviews on Amazon
This would be a nice upgrade for any violin. The tailpiece is carved with mother of pearl inlay. The kit comes complete with silver plated clamps. The pegs are carved and collared. The entire kit is simply lovely.
Sky Rosewood Violin Parts- Each part in this kit is made from solid Rosewood that has been carved and inlaid with mop.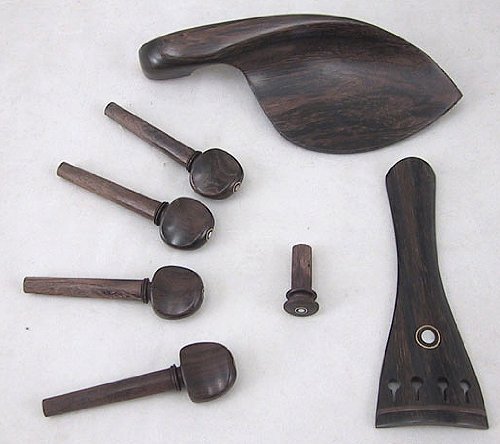 Click Here for Pricing, Pictures and Reviews on Amazon
There are plenty of options when it comes to choosing the right pegs. While pegs may only be part of the mechanics of your violin they do play a vital role. They are inexpensive and any luthier can easily replace the pegs for you.
If you are going to replace your pegs why not choose pegs that are a bit of an upgrade from what you are using now?
Taking care of your violin and doing general maintenance activities like replacing the pegs when they are no longer serviceable can help you to enjoy your violin longer and get more use out of it.
Remember to measure before you order. Not all pegs are made for all violins so be sure that you check the size you are searching for before you start your search. If you are not certain that you can switch out the pegs on your own, get some help from a professional!
You will be playing again before you know it.